Durability and support will see TNR returning for more
Published: 16 March 2022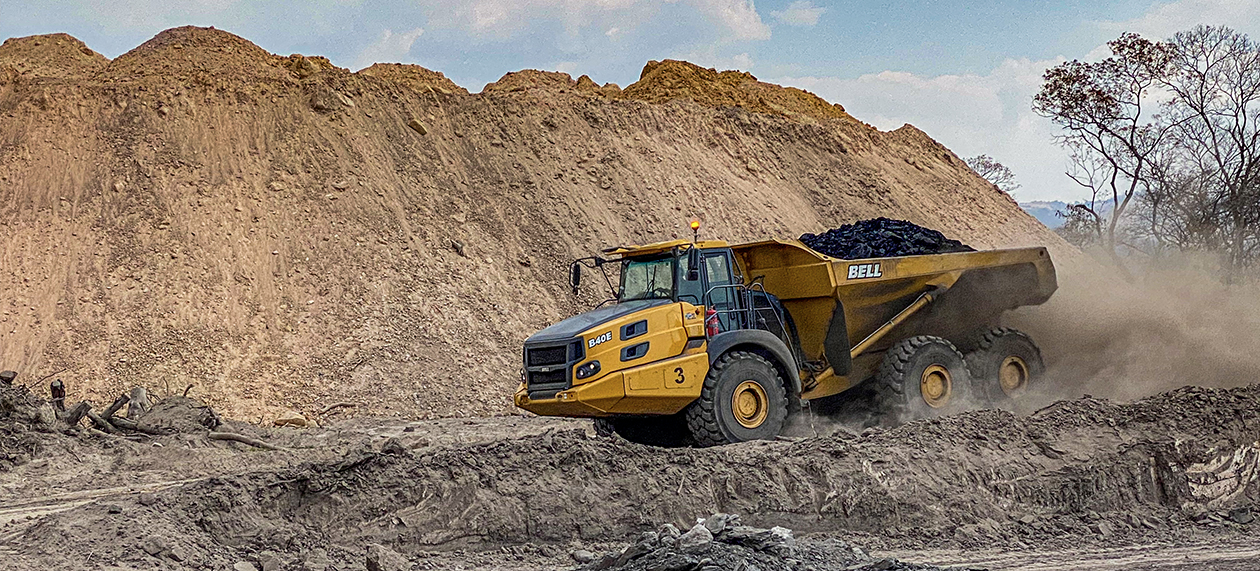 An earthworks and mining contracting company in Tanzania has been so impressed with their first four Bell B40E Articulated Dump Trucks (ADTs) and the support they receive from Kanu Equipment, Bell Equipment's dealer in that country, that they are looking at extending their fleet once they near production capacity.
TNR, based in Dar es Salaam, is jointly owned by good friends and business partners, Terry Calavrias and Ryan Wienand, who established the company in 2015. "Initially we started out with a small bush clearing contract and road building work and our projects grew in number and stature from there," says Terry.
Prominent projects include the road works, civils and engineering aspect of the Unilever tea estate in Tanzania, construction of the rail bed for the Tanzania Standard Gauge Railway, which links the country to neighbouring Rwanda and Uganda, and earthworks for the Stiegler's Gorge hydroelectric project, which will be the largest power station in East Africa once completed.
In terms of contract mining, TNR operates in the Ruvuma region in southern Tanzania at the Ruvuma Coal Mine where the four Bell B40Es have been deployed. The company also works at the Lindi Jumbo Graphite Mine, owned by Walkabout Resources, where it is involved with earthworks, concrete and civil works.
The partners previously ran an earthworks company from 2009 to 2012 and attribute the success of TNR on their strong working relationship and the sacrifices they both make to ensure that projects benefit from their hands-on management. "We've also got an exceptional management team and a dedicated team on the ground," says Terry, who adds that trust has been another key ingredient to their success. "We have trust between ourselves and with our clients and try to exceed a client's expectations. We prefer to under promise and over deliver."
Over the years TNR has grown its staff compliment to 300 people and accumulated 60 pieces of heavy equipment. The fleet includes graders, rollers, tipper trucks, excavators and the four Bell ADTs, which were delivered in January and February 2021.
The partners previously owned Bell ADTs when they owned the earthworks company together, so they knew about the durability of the Bell product. "When we needed ADTs for Ruvuma Coal, we did a comparison with competitor machines and were satisfied that the Bell trucks were best suited to our climate, the gradient of the pit and slipperiness of the material."
The Bell ADTs work two 10-hour shifts per day and are predominantly used to haul coal with about 30% of their time spent hauling overburden. When hauling coal, the trucks are loaded in the pit by a 75-ton excavator and transport the coal between 500m and 1km to the Run of Mine stockpile from where it is loaded into crushers and screens.
According to Terry TNR has been pleased with the consistency they are achieving in terms of the carrying capacity and cycle times of their ADTs. The trucks are not fitted with greedy boards but comfortably carry between 18 and 21 cubic metres per load. As expected, durability has been good resulting in limited downtime. "We're also happy with fuel burn, which is volatile according to the terrain and steepness, but is still within spec," he says.
Standout features for TNR are the standard onboard weighing and the comprehensive live feedback that is provided on the dashboard. The numerous safety features, cab comfort and ease of driving have also not gone unnoticed.
Of course, 'strong reliable machines' need 'strong reliable support', particularly in Tanzania where the remoteness of the Ruvuma Coal Mine poses logistical challenges. "The site is about 1 100km from Dar es Salaam and with our road network it is a full day's drive, so support is very important. We did our checks and balances prior to purchasing our Bell ADTs and Kanu Equipment has given us great support. Their response time is fantastic, they service on site, and we are very happy with their backup and support," says Terry.