Emissions-friendly B30Es to place John F Hunt Plant Hire in the pound seats
Published: 13 June 2022

Established in 1982, the John F Hunt Group serves the UK Construction industry through its network of dedicated companies and divisions nationwide including demolition, civil engineering, industrial dismantling, remediation, generator and plant hire. Well known for its technical engineering expertise, the company delivers complex construction and regeneration projects using plant predominantly supplied from the internal hire division.
One such project is the regeneration of the former Rugeley Power Station site in Staffordshire. John F Hunt Regeneration was appointed to undertake the remediation and enabling of the 139-acre site prior to the construction of a mixed-use site of homes, business units, a country park, school, community centre and medical facilities.
To undertake this project the company added five brand new Bell B30E Articulated Dump Trucks (ADTs) to its fleet which were immediately deployed to site along with two existing Bell B25E machines. The two main areas for bulk material movement were a former coal yard and the PFA (Pulverised Fuel Ash) lagoons, which were a mile apart. To facilitate the efficient hauling of extracted spoil the dumpers were immediately put to work to create a specific haul road to move materials without hindering the remediation operations.

John Yeldham is the Operations Director of John F Hunt Plant Hire. He first started buying Bell ADTs in 2006 after competitively benchmarking the brand against his existing ADTs in use at the time and recalls: "We initially bought two Bell B25D dump trucks which came into the general hire fleet and got a great response from both internal and external customers. We kept the machines for 10 years until they had clocked up 15 000 hours. They then ran alongside three new B25Es, bought in 2015, until we traded them on, but they proved to be highly reliable over the decade we had them. We still have the three B25Es, which are exceptionally fuel efficient and performing well." With a full order book of earthmoving projects, the company introduced three used B30E ADTs into the portfolio in 2022 which have been out on hire consistently. In 2021, having been awarded the contract for Rugeley Power station, John reappraised all ADT manufacturers, but again selected the Bell for the work. "Buying Bell dumpers again made sense. We know they are modern, robust machines and they have proved themselves over the years. Our long-standing relationship with Bell Equipment and the great aftercare is actually as important to us as the machines, so there was no compelling reason to change."
The B30Es are particularly suitable to the type of work undertaken by the John F Hunt divisions. Flotation tyres help to maximise uptime in poor ground conditions, and this is particularly important on remediation sites where the haul roads are less sophisticated and constantly move as the site progresses. Fuel efficiency, when shifting large volumes of materials, helps to ensure optimum cost per tonne is achieved.
Fleetm@tic® is a feature that is used daily at John F Hunt to monitor hours, utilisation, maintenance and service work and John anticipates that sites will start to require a greater level of detail going forwards to highlight where further efficiencies can be made. "Fleetm@tic® is a very user-friendly telematics package that enables us to closely monitor the machines. We use it to assess productivity and to schedule routine maintenance and service so that we minimise any downtime. Going forward we foresee more clients requesting data such as idle time, particularly given fuel prices, and to highlight where further efficiencies can be made. Fleetm@tic® enables us to give a detailed breakdown very quickly to whatever timescale is required." John F Hunt Plant Hire employs its own service technicians but calls on Bell Equipment's service engineers for ad hoc support, depending on where the machines are working. "The machines are very reliable and we have had very few issues. The only downtime is for routine servicing, bank holidays and annual holidays – although we do occasionally respond to requests for urgent work at those times. The Bells never let us down and even though we don't have service contracts, we get good responsive service when we need an engineer. Parts availability is always acceptable despite the pressures of recent years. We don't have to worry about safety with the Bell dumpers because features, such as inclinometers, are built in. It's a combination of all the above that means we run a solely Bell fleet."

The company has now placed an order for a five further B30Es, which, with their Stage V engines ensures John F Hunt is in a good place to bid for further projects, particularly in London with its emission free zones.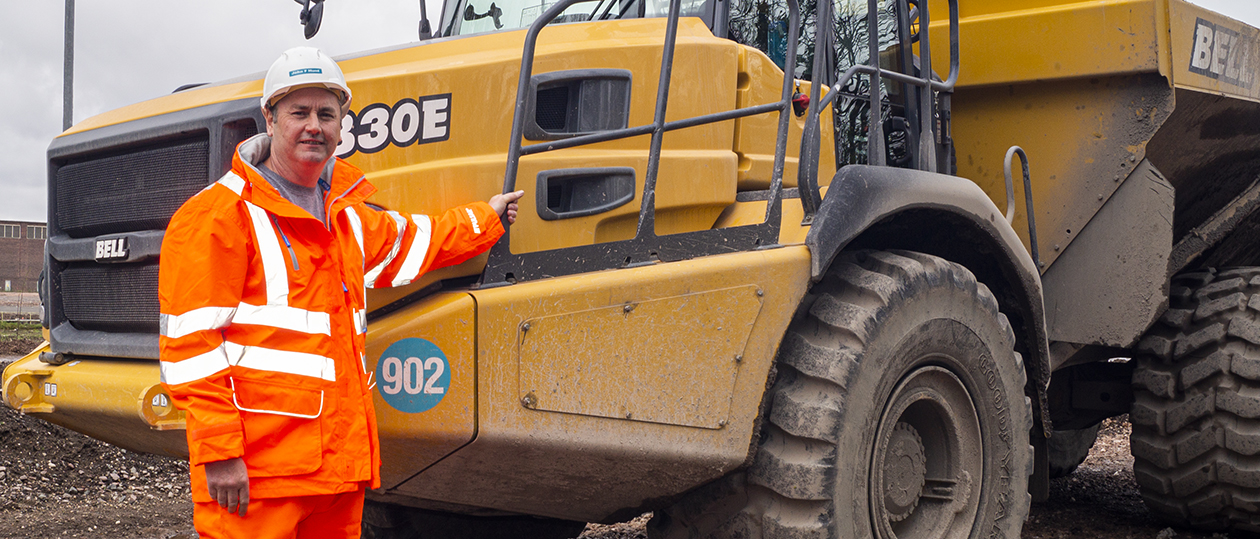 John Yeldham, Operations Director.