MJ Church upgrades to B30E Stage V for high profile projects
Published: 02 June 2022
For the last two decades Wiltshire-based MJ Church Ltd has been a faithful user of Bell Articulated Dump Trucks (ADTs) for earthmoving projects and the occasional hire contract. A recent spate of contract wins has led to an order for fifteen additional units which will help the company gear up for its increasing workload over the next twelve to eighteen months.
Five new B30E ADTs were delivered in early 2022, bringing the current fleet to 20 machines. The remaining machines will be delivered in two stages in September and early next year coinciding with the start of new ground works jobs. The current fleet is engaged on high profile sites such as HS2 in Oxfordshire and Hinckley Point in Somerset, as well as a number of local ground clearance jobs.

Tom Church is Director of the Plant and Transport Division of the family-run business, which also has dedicated skip hire and waste management businesses and is responsible for procurement. He said: "We enjoyed our best year ever in 2021 and the next 12 to 18 months is shaping up to be even busier. The new contracts are particularly truck heavy, so we placed an order with Bell Equipment with specific delivery deadlines to ensure we meet project start dates.
Part of the deal included swapping out a couple of older units to ensure we were able to benefit from the upgraded spec on the new B30Es and we were really pleased with the trade-in values. This demonstrates that Bell has confidence in their own products. We believe that is well justified as the machines have proved themselves to be highly reliable; particularly over the last decade."

The latest evolution of Bell B30Es come with benefits such as a Stage V engine and a new FuelSense transmission calibration giving even greater efficiency and performance.

Established in 1974 by current Chairman, Mike Church, MJ Church is one of the South West region's largest civil engineering, earthworks and waste management contractors. The contracting side of the business has become increasingly important over time – highlighted by the company gaining frameworks with large contractors for the next five years on large scale projects. Machinery is selected on a project-by-project basis and the company undertakes detailed analysis to understand and analyse machine performance. This includes data on actual performance versus expectation, budget, fuel usage, service and maintenance and includes driver performance and achieved daily production. The Bell Fleetm@tic® telemetry system enables this level of detail and is an important tool for Tom Church when considering new purchases. "Fleetm@tic® is an exceptional feature that we use daily to measure performance. It provides a quite unique level of analysis in the industry and has actively demonstrated that we not only get excellent fuel consumption, but we rarely have downtime issues with the machines, apart from routine maintenance and servicing. Fleetm@tic® recently demonstrated that the B30E was the best option operationally and economically to work at the Torr Quarry in Somerset; one of our new contracts."

Every Bell ADT is bought with a full-service contract, which is carried out by Bell service engineers. According to Tom, "Bell offers excellent aftercare including highly qualified and experienced service technicians. Every manufacturer struggles for parts and service staff, but Bell never fails to meet our schedules. These are flagged in advance by Fleetm@tic®, which helps planning for both parties, but in the event of any issue the Bell Service team always finds a solution to keep our machines on the road. The senior team is always accessible and we feel very looked after as a customer. Our drivers love the Bell dumpers, the workshop team hardly know we've got them, and the management team has complete confidence in the brand. Bell is a global business that proactively delivers personal service."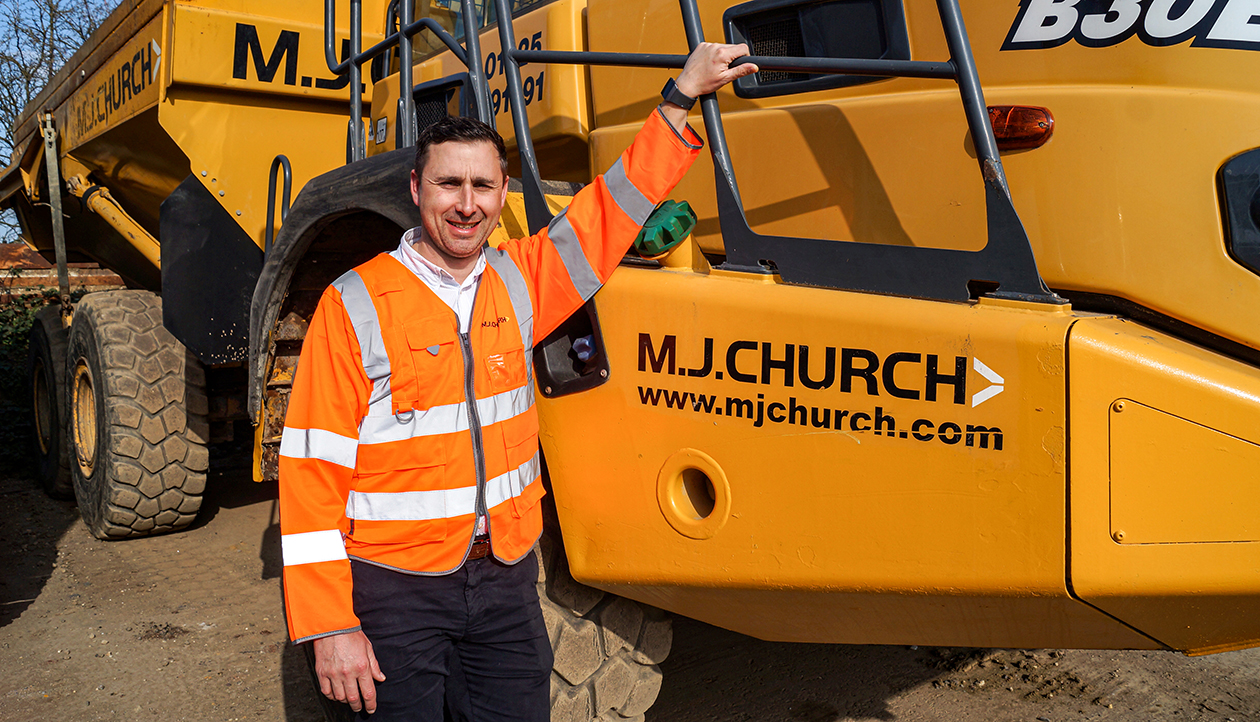 Tom Church, Director of the Plant and Transport Division.