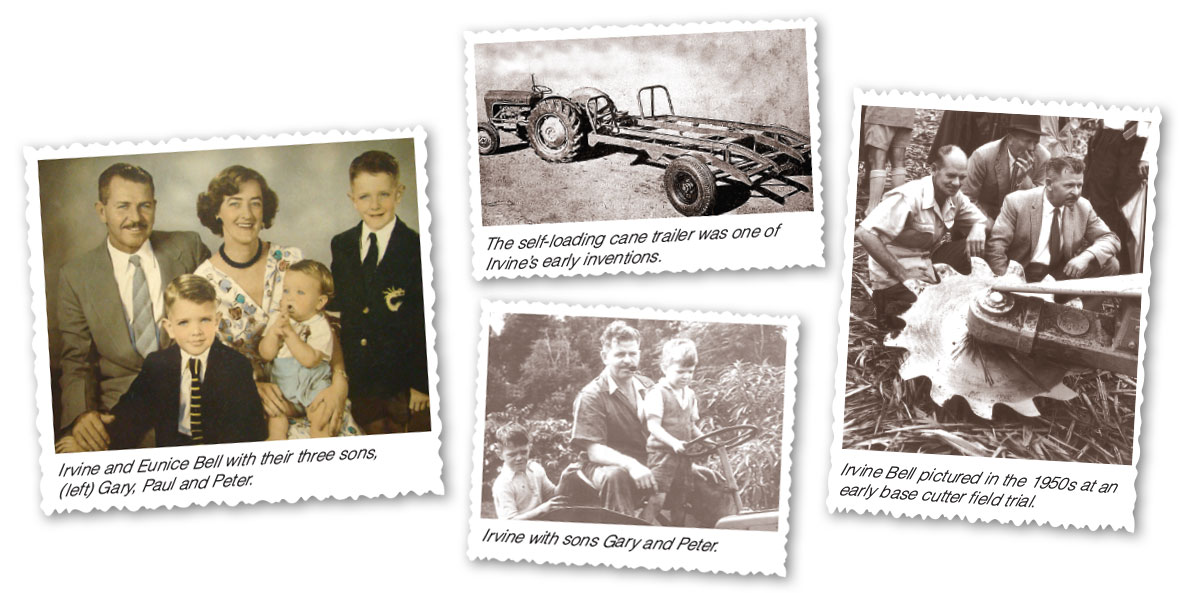 The story of Bell Equipment began when Irvine Bell settled in Zululand, South Africa a few years after the Second World War with his new bride and company co-founder, Eunice.
Irvine had completed his trade apprenticeship as a Fitter and Turner on a northern Natal colliery where he had grown up before serving five years in the Army Corps of Engineers during the War. Now he applied his engineering skills to build a home-made water boring machine powered by a Willys Jeep engine.
Following two years of sinking water wells for a living, he accepted an offer to start a farm machinery repair service on a sugar estate near Empangeni on the North Coast of Natal. The enterprise's ability to repair even the most extensively damaged or worn machinery soon attracted work from further afield.
When the business expanded in 1958, Irvine built a new workshop on his smallholding. Now joined by his brother Robert, brother-in-law Malcolm Campbell and with Eunice keeping the books, the small enterprise, I A Bell and Company, provided a general engineering service along with limited manufacturing of Irvine's various inventions - among them a self-loading sugar cane trailer and an overhead transfer crane for local farmers.
With the family home built alongside the workshops, sons Peter, Gary and Paul grew up amongst the welding sparks and machine shop swarf in a grease filled, mechanical parts intensive environment.
In the early 1960s Irvine saw a further opportunity to improve the sugar cane harvesting process. While a few rudimentary cane loading machines had appeared on the scene, most were adapted farm tractors and lacked the manoeuvrability to quickly gather a load of cane.
Irvine developed a whole new class of machine. Utilizing emerging hydrostatic technology and borrowing hydraulic motors from an old motor grader, his prototype three wheeled loader was granted a patent and named the 'greatly manoeuvrable self-propelled machine'.
Able to control each of the large drive wheels independently, the Bell tri-wheeler could turn instantly on its own axis. Furthermore, the simple control concept was easily assimilated by operators without any previous machinery experience.
Choosing to focus on the general engineering side of his business, Irvine licensed the manufacture of his Cane Loader to a Johannesburg-based locomotive company that was active in cane transport at the time.
The quest to design productive mobile machinery was not lost on his sons. Peter and Gary's first go-kart, scrounged together during school holidays, could pull a small tip trailer. And with a dozer blade fitted to the front of the cart to spread gravel, the rig was put to work repairing the dirt roads on the smallholding!
By the early 1970s the business had again expanded to a new facility in Empangeni's industrial area.
With the construction of a greenfields port in nearby Richards Bay, the company provided many innovative engineering solutions to the port's contracting consortium. Among them lightweight, high-flotation earthmoving dumper trailers that could cope with the soft sand conditions.
Now with the next generation on board in the business, Irvine together with Peter and Gary developed and patented a cane cutting attachment that enabled the tri-wheeler to further mechanize cane harvesting.
Irvine was nevertheless wary of his sons' ambition to venture into mass production, warning the boys that they may lose interest after producing the same piece of machinery on a continuous basis.
Instead, after a windfall maiden production year, which saw 50 units produced, the company was rising to the challenge of successful manufacturing. Applying practical hydrostatic systems experience gained while working on sabbatical with the Vickers distributor, Peter Bell made significant improvements to the tri-wheeler's design and in 1975, with the expiry of the manufacturing licence, Bell commenced in-house production of complete machines.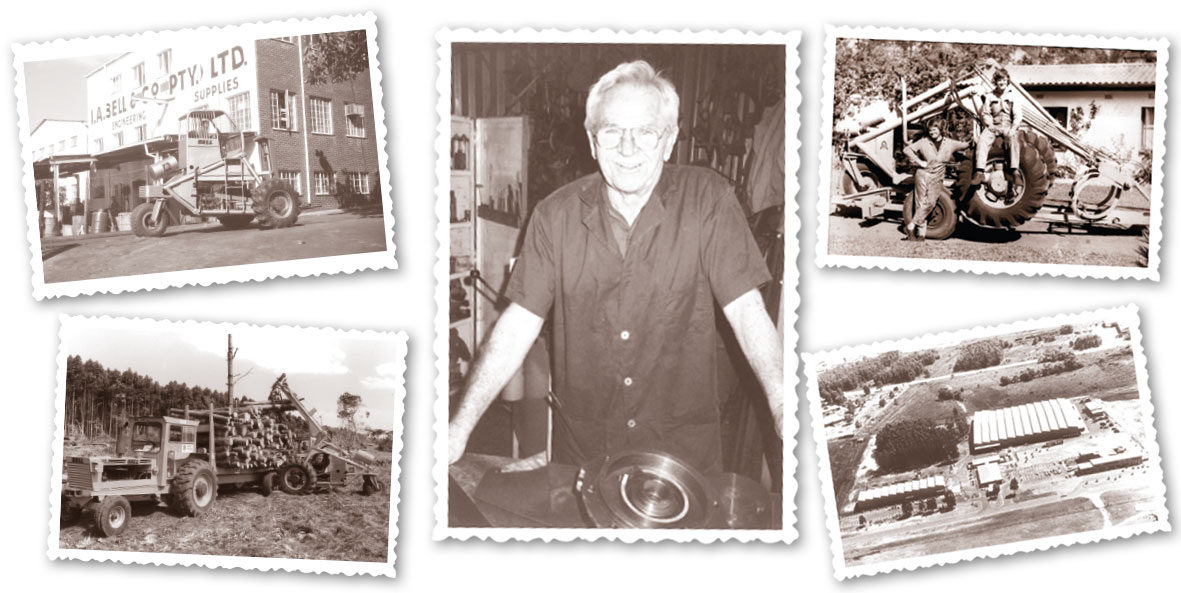 The number of tri-wheeler applications grew. Fitted with a forklift mast, the Rough Terrain Forklift version was quickly embraced by the country's brick industry. For the expanding timber industry, a log handling version was configured. Equipped with a log grab, the Bell Logger proved to be the ideal tool to gather logs and to load transporters.
Observing the deficiencies in the adapted farm tractors used as transporters in the sugar and timber industries, Peter conceptualized a more robust machine. Purpose-built for haul work with an automatic transmission, a fabricated steel chassis, heavy duty axles and hitch positioning to optimize load weight transfer and traction, the Bell Haulage Tractor, together with a range of job matched trailers, found a ready market in cane and timber haulage, which then expanded into earthmoving applications.
Now working in the earthmoving industry, Peter saw the opportunity to apply the hauler's strong simple design philosophy to the wheeled loader concept. He set about designing a tough 'Built-for-Africa' mid-size range of wheeled loaders that were destined to become market leaders in their class.
After a few years of marketing their growing product range through independent distributors, the company recognized the advantage of having its own dedicated outlets to provide customers with direct factory support. And so, the Bell Customer Service Centre network was born. Beginning with a branch in Johannesburg, Bell Equipment soon had national coverage and, within a few years, exports to neighbouring countries put Bell firmly on the map.
By the early 1980s, with a factory staff of just over 100, the manufacturing operation had outgrown the Empangeni facility and in 1984 a new custom-built factory located in Richards Bay was commissioned. By this time the Bell Cane Loader range had found ready markets abroad and the factory provided product in kit form to final assembly facilities in Mauritius, which in turn supplied Cane Loaders locally and into Africa. A New Zealand assembly facility provided Bell Loggers for the Australasian forestry industry.
In the United States, the company first partnered with a large forestry equipment manufacturer to build American versions of the Logger. Later Bell Equipment established its own facilities in the southern timber market to distribute products exported from the Richards Bay plant. Paul Bell designed the Bell Feller Buncher for the American logging industry as a progression of the tri-wheeler concept.
The early 1980s saw the arrival of a new configuration of earthmover in the South African marketplace. These articulated dump trucks (ADTs) imported from Europe were effective and versatile. Bell nevertheless saw room for improvement, fine tuning their design to better cope with the harsh operating conditions common in Africa.
Launched in 1985, Bell Equipment's first ADT, the 25-ton model was a resounding success. This led to new models expanding the range. Lighter, faster models extended the ADT application to a greater number of challenging hauls. By 1989, with the doubling of the Richards Bay plant capacity, the flagship 40-ton ADT was launched, and our worldwide team of employees had grown to 1 650.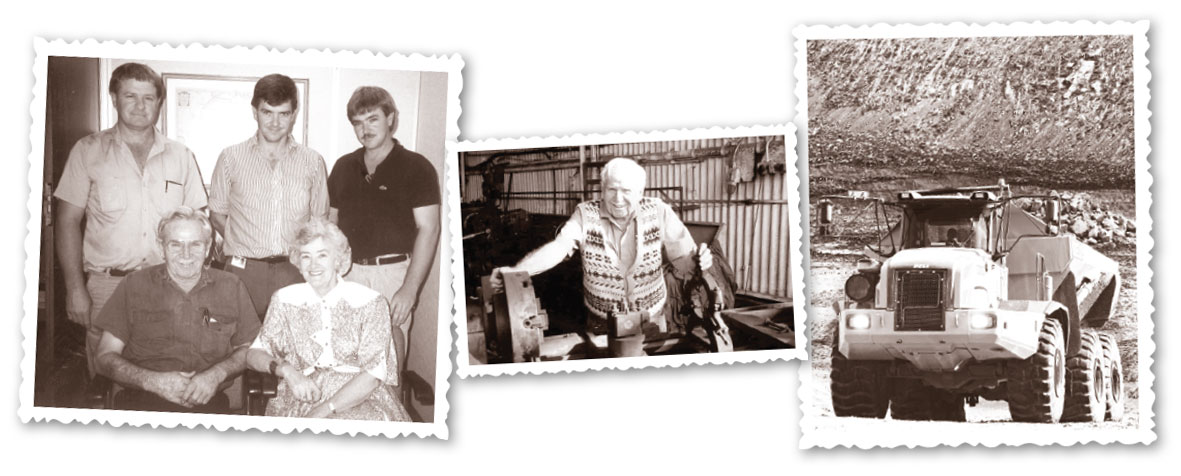 Today, through a passion for innovation and continuous improvement, the company is recognized as an ADT specialist for having the largest and most advanced range on the global market. The current generation – the E-series – comprises of small trucks from 18 to 30-ton for construction and infrastructure. Large trucks, from 40 to 50-ton, are ideally suited to bulk earthworks, mining and quarrying. Bell is also influencing global ADT trends with its 4x4 ADT range, led by the ground-breaking 60-ton 4x4 crossover concept, the B60E, which targets high production operations where poor underfoot conditions limit the suitability of rigid dump trucks.
At the forefront of technological innovation, geared at improving productivity and safety while delivering the lowest cost per tonne of material moved, Bell ADTs offer keyless entry, Hill Stop, Bin Tip Prevention, Turbo Spin Protection, On Board Weighing and an Auto Park Application as standard features. The Bell designed fleet monitoring system, Fleetm@tic®, enables customers to manage their fleet according to their operating environments.
To complement its own products, Bell has partnered with global equipment manufacturers in Southern Africa - JCB, Kobelco, Finlay and Bomag - to provide our customers with full line solutions for the construction, forestry, mining, quarrying, agriculture and waste handling industries.
Our motto 'Strong Reliable Machines, Strong Reliable Support' represents our customer-devoted beliefs, ideals and ethical stance throughout our manufacturing, distribution and support network that provides technical backup and advice to our customers around the globe for our world class products.
By partnering with customers and suppliers we are proud to have grown from humble beginnings, where Irvine Bell from his small engineering works inspired the search for a better way.