Alternative fuel solution and fuel efficiency for Smiths of Gloucester
Published: 06 May 2022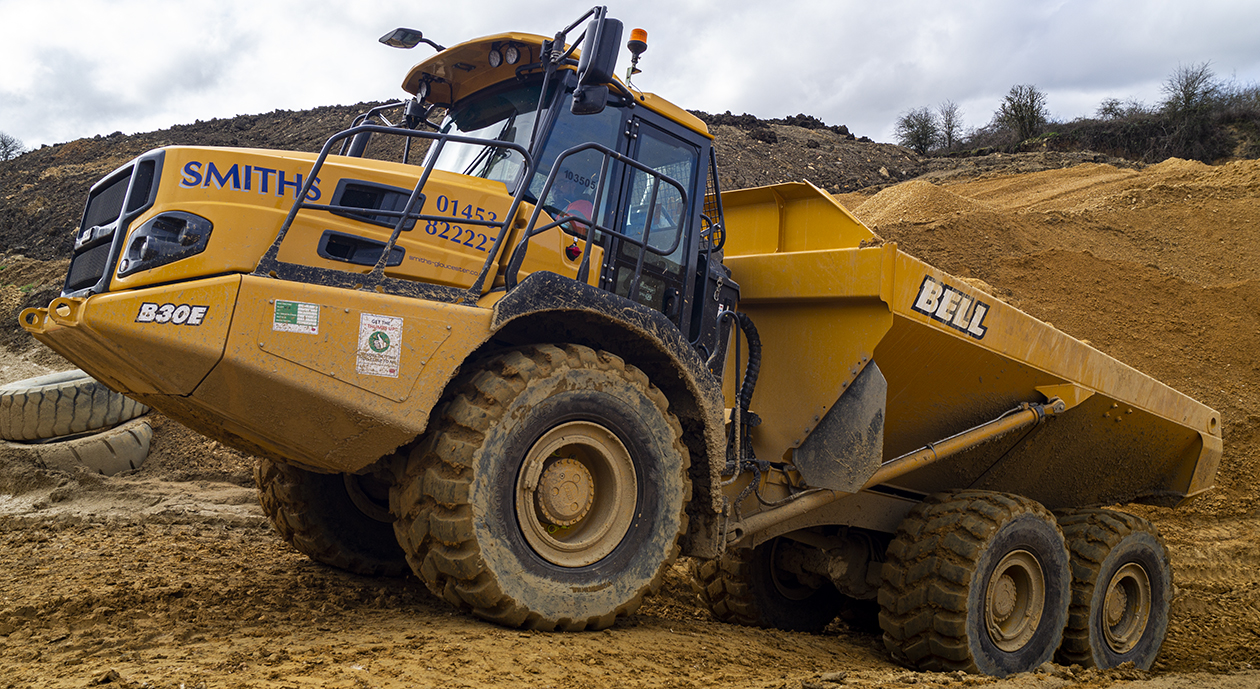 The hire of two Bell B30E Articulated Dump Trucks (ADTs) on a construction site in Stroud in 2020 was the catalyst for family run business, Smiths of Gloucester, to re-invest in their own dump trucks after a lengthy hiatus. Having previously owned an alternative brand of dumpers that were, in the company's own words, 'parked up more often than working', the positive experience with the Bell Dumpers restored the company's faith and led to a review of the rental policy.
Plant Manager, Rob Davis, initially hired the two Bells dumpers from a local hire business to haul and stockpile topsoil on a housing project prior to archaeological inspection. To complete the contract a further two dumpers were required, but with no Bell B30Es available locally, two competitive dumpers of the same size and specification were brought in to complete the job. This ultimately proved to be an interesting experiment for Rob, who noted that the 'Bells' were, by far, the most fuel efficient; in fact, each B30E consumed 60 to 70 litres less red diesel per day; equating to savings (at the time) of over £300 per week. Today, according to Rob, that saving is far greater:
"Given that we provide operators and fuel to our customers, this saving was exceptionally attractive to us as a business and made the business case more compelling for buying our own machines again."
The company initiated a conversation with Bell Equipment about buying a couple of machines in 2021 after winning the groundworks for a new warehouse on an industrial building site in Gloucester. The ability to run on an alternative fuel source was mandatory and two Bell B30Es were duly delivered in time for the start of the project.
"Our client, a Tier 1 Contractor, has net zero carbon ambitions and requires a sustainable fuel solution for all plant and equipment and that formed part of our discussions with Bell. The machines were able to successfully run on HVO (hydrogenated vegetable oil) for the duration of the project with no detriment to performance and we've been able to successfully re-fill the machines with diesel for subsequent jobs," explains Rob.
The two machines, in between contracts, work in the Cotswold Hill Quarry; one of a cluster of quarries producing stunning stone and aggregates near Cheltenham in the Cotswolds Area of Outstanding Natural Beauty (AONB). The site is leased by Smiths to extract natural stone that is sold to a stonemason on site and manufactured into building products. All inferior quality stone is crushed and screened to produce varying sizes of aggregates and sand which is sold on for roadworks and construction projects throughout the UK. The Bell ADTs are used for multiple purposes in the quarry including the transportation of spoil for the creation of new haul roads and reinstatement of previously quarried areas. They are also loaded up with stone for crushing and processing on site.
"Performance and operator comfort are givens for all machinery brands. Where the Bell Dumpers excel is the fuel efficiency, which is a real bonus. Aftercare is also very important and if we need anything – which is very rare – the service engineers are quick to respond to fix any problem. Another outstanding feature for us is the Fleetm@tic® telematics system, which we have found to be the best system across all our plant. It helps us manage the machines and gives us an accurate production rate. We have been able to eliminate a lot of idle time thanks to monitoring the machines."
Smiths have first call on the machines for their own jobs and supplement periods of temporary inactivity by hiring out the machines with operators. Utilisation is exceptional; there is always demand for the machines to the extent than an order for two lighter B20Es has been placed for delivery in the second half of 2022.
The versatile machines have very low ground bearing pressure and are preferred by customers on sites where archaeological surveying is required. As this constitutes 50% of the company's normal workload Rob believes they will be equally in demand. So much so, that he expects to place a further order in 2023 and there is "no reason not to stay with the Bell brand going forwards."