Bauma to mark Bell Tracked Carrier's European debut
Published: 14 July 2022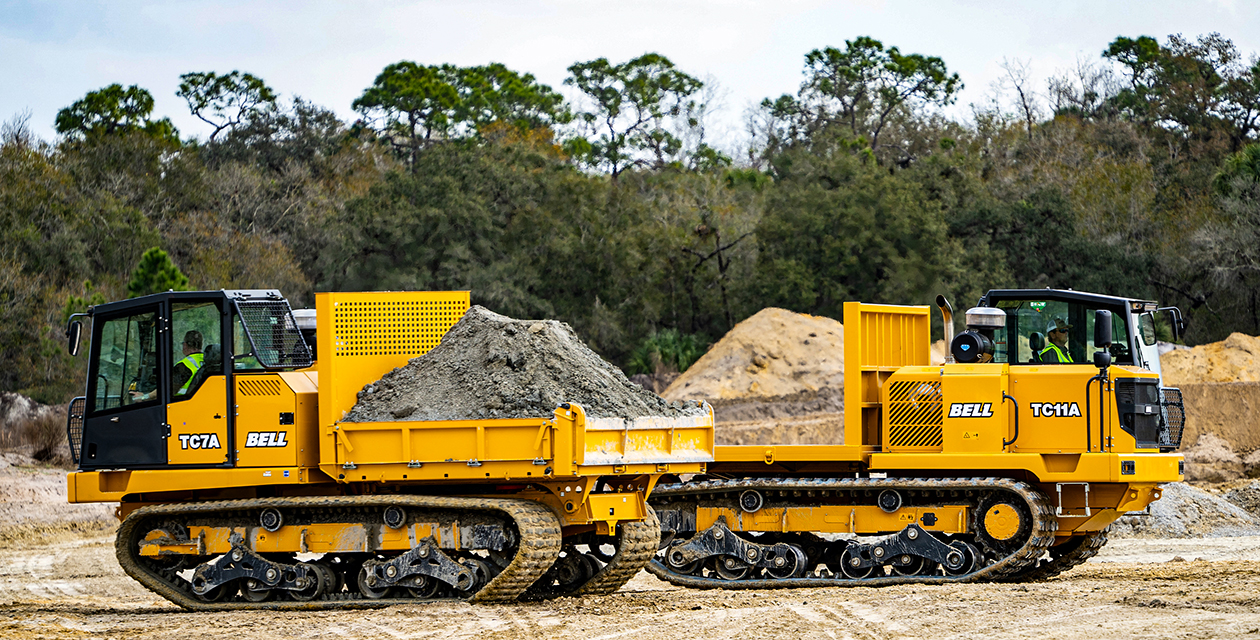 The new Bell Track Carrier range comprises the 7t-model TC7A and the 11t TC11A.
Following extensive field testing with US users and a successful North American debut at Conexpo 2020, Bell Equipment is now launching its new Tracked Carriers in Western Europe. On display at Bauma will be the Bell TC11A, the larger of the two versatile models with a payload of 11t.
Proven development strategy
The introduction of the new Tracked Carrier (TC) range from global ADT specialist, Bell Equipment, was preceded by several years of development. The aim was to sensibly supplement the company's own range of rough-terrain transport vehicles and, at the same time, successfully establish innovative and competitive machines in a highly specialised niche segment.
As with other tailored solutions, such as its unique 4x4 ADT range, Bell Equipment sought close contact with end users throughout the pre-production stage to ensure that the expectations of its distribution and customers were met. The demand was first identified in the USA, notably the challenging pipelaying industry.
Prior to the unveiling of the two TC7A and TC11A models in early 2020, a group of US dealers were involved in reviews of the design before the prototype units were even manufactured. "It was exciting to see how online tools such as Zoom and Microsoft Teams helped us develop and hone our product design in a collaboration between two groups of individuals across two continents," says Brad Castle, Bell Equipment's Product Manager. The dealers were later involved in the prototype field tests in the USA and gave invaluable input to further fine-tune the Bell Tracked Carrier concept during this phase. This has enabled the company to design and manufacture a product that delivers far more than the competitor machines and differentiates the Bell product in the key areas of robustness, operator comfort and serviceability. "The positive customer feedback and the quantity of units sold since start of production are a testament to that."
Brad continues: "Having evaluated market acceptance and performance of the Tracked Carrier in the US, we see strong potential for the product in Europe. The Bell Tracked Carrier has proved itself to be highly customisable and provides a durable short haul solution for construction sites with soft underfoot conditions that require low ground pressure machines, either for environmental or traction reasons. At the same time, the tracked vehicles impress with exceptional climbing ability of 50% and more, even in rough terrain. This makes them highly suitable for operations on sandy or wet coastal soils, work on energy infrastructure (pipelines, wind power, etc.) in remote or sensitive areas, and to construction work in alpine regions."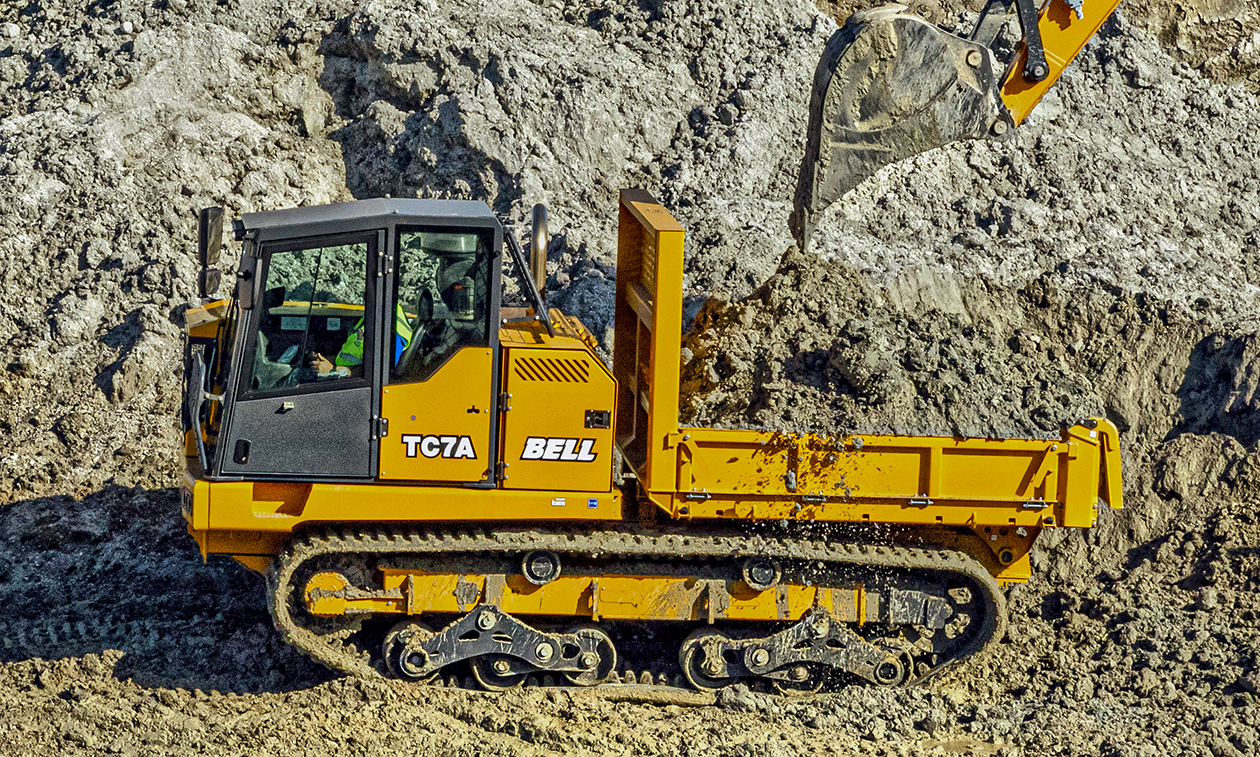 The Track Carrier TC7A comes with a combination bin that can be used as dump bed (3,5m³) or flat deck.
Made to go anywhere, comfortably
Tracked Carriers are used in tough situations where it's not possible to use other machines; either the ground is so soft that an ADT would be too heavy and get stuck, or the angle of attack has the machine travelling straight up a hill, which would cause another machine to slip or roll. This means Tracked Carriers must be robust and Bell achieves this through the unique design of the undercarriage and choice of materials.
"We tapped into our years of ADT expertise and innovation with the design of the Tracked Carrier in terms of the design philosophy and walking beam suspension on the undercarriage. As a result, what really sets our Bell Tracked Carrier apart is the unique balanced six-roller undercarriage with compound walking beams," explains Brad Castle. "It provides the most evenly spread footprint on the market with optimal ground pressure contact and less track-point loading for longer track life and exceptional operator comfort."
Bell ADT genetics are evident throughout the machines: Extensive use of high-strength steels in chassis and other assemblies makes Bell Tracked Carriers highly robust and ensures optimised net weights (TC7A: 10 950kg; TC11A: 13 960kg). In equipping the hydrostatic drive, working hydraulics and machine control with high-quality components, the engineers, as with the Bell ADTs, focus on a high degree of modularity and parts uniformity, which facilitates maintenance and spare parts stocking in fleet operation.
Both models are powered by the Stage 5 emissions complaint 6,7 litre Cummins engine (TC7A: 168 kW / 2 200rpm; TC11A: 186kW / 2 000rpm) and feature Rexroth hydraulics for optimised fuel consumption and performance. Bell Fleetm@tic®, the company's proprietary telematics software is a standard feature enabling owners to monitor machine health, productivity and fuel economy.
Cab accessibility and operator comfort are other standout features. Unlike competitor machines that are fitted with generic excavator cabs, the TC7A and TC11A have a spacious purpose-built cab that is ROPS and FOPS certified and provides excellent visibility.
For ease of maintenance the service hatch, located on the left-hand side of the machine, houses all the service items in one place and at ground level for customer convenience and time saving. The Bell Tracked Carrier also has rubbers in the bogie pivots for reduced greasing requirements and improved wear.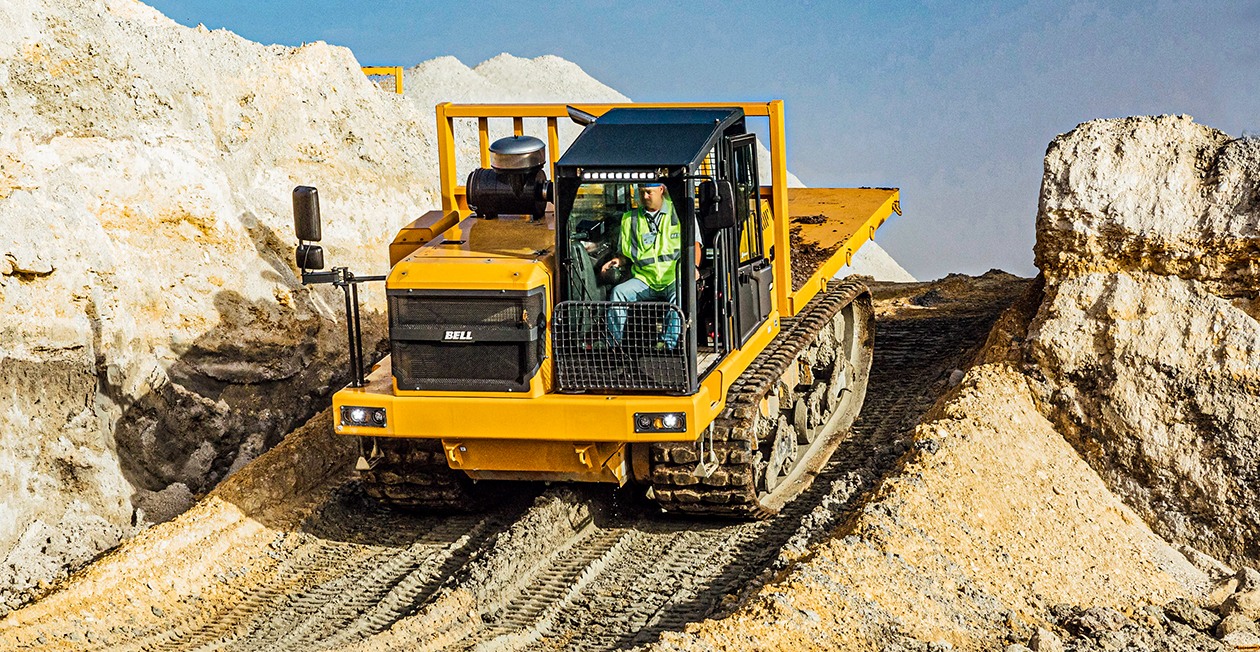 The flat deck makes the new Bell Track Carrier TC11A a versatile equipment carrier.
Versatile, user-friendly configurations
Both models offer different configurations on the backend to suit a customer's needs. The compact TC7A (W: 2 590mm, L: 5 690mm, H: 3 073mm) has a combination bin that can be used as a dump bed (3,5m³) or a flat deck when the sides are folded down and the tailgate is removed. The TC11A (W: 2 895mm, H: 3 200mm) can be ordered with either a dump bed (5,25m³; total length: 5 970mm) or a flat deck (total length: 6 833mm). The flat deck versions are suitable as universal carriers for equipping with lifting gear, concrete mixers or other special equipment.
"We're excited to gauge the reaction of the European market to our Bell Tracked Carrier at Bauma and look forward to showing visitors our new development and its unique selling points," said Brad Castle.
Once the final homologations have been completed, Bell Equipment expects both models to be delivered from 2023.
Bell Equipment at Bauma: Hall C6, Stand 30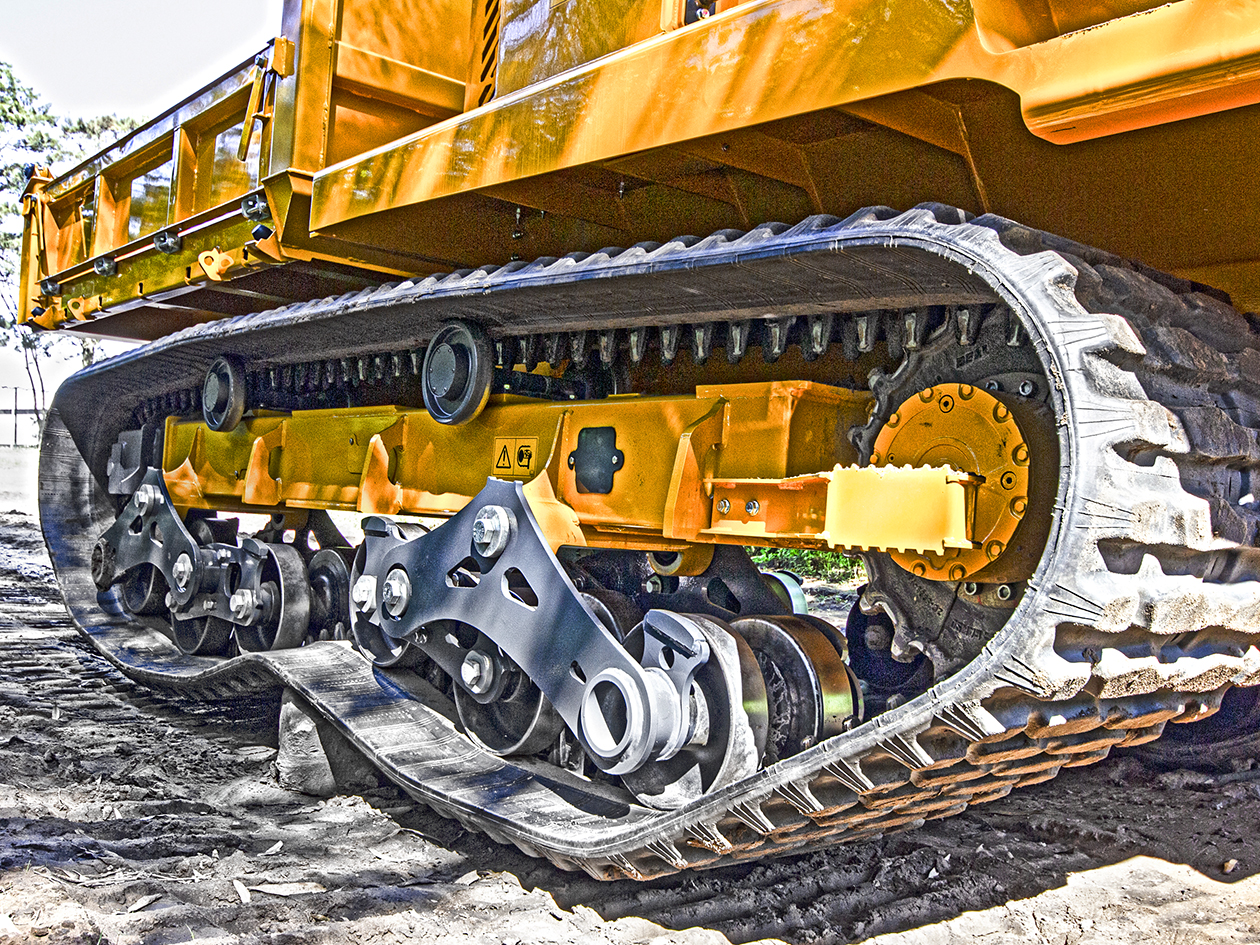 The six-roller undercarriage with compound walking beams guarantees optimal ground pressure contact and high operator comfort.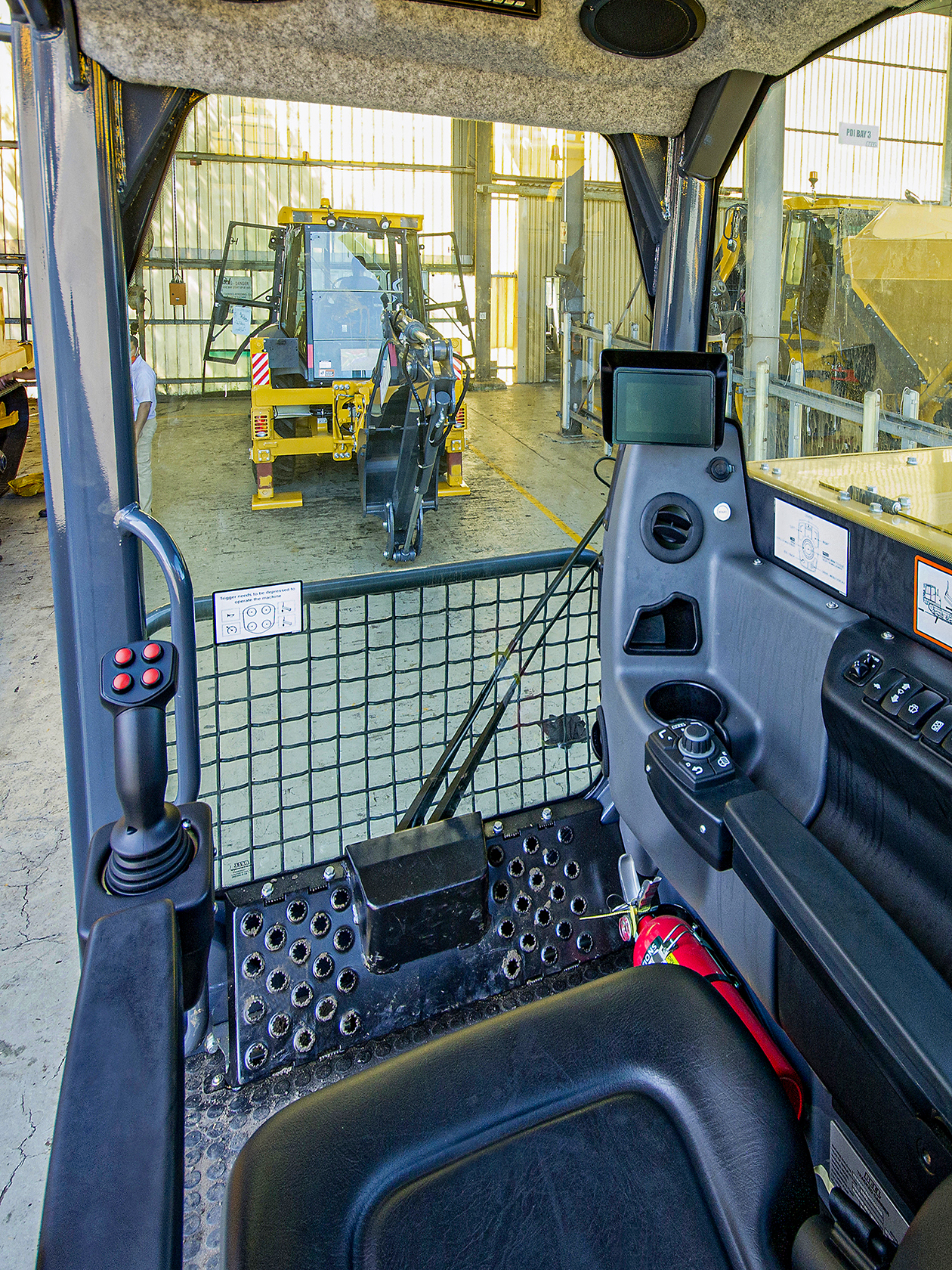 The cab is purpose-built and offers state-of-the art ergonomics.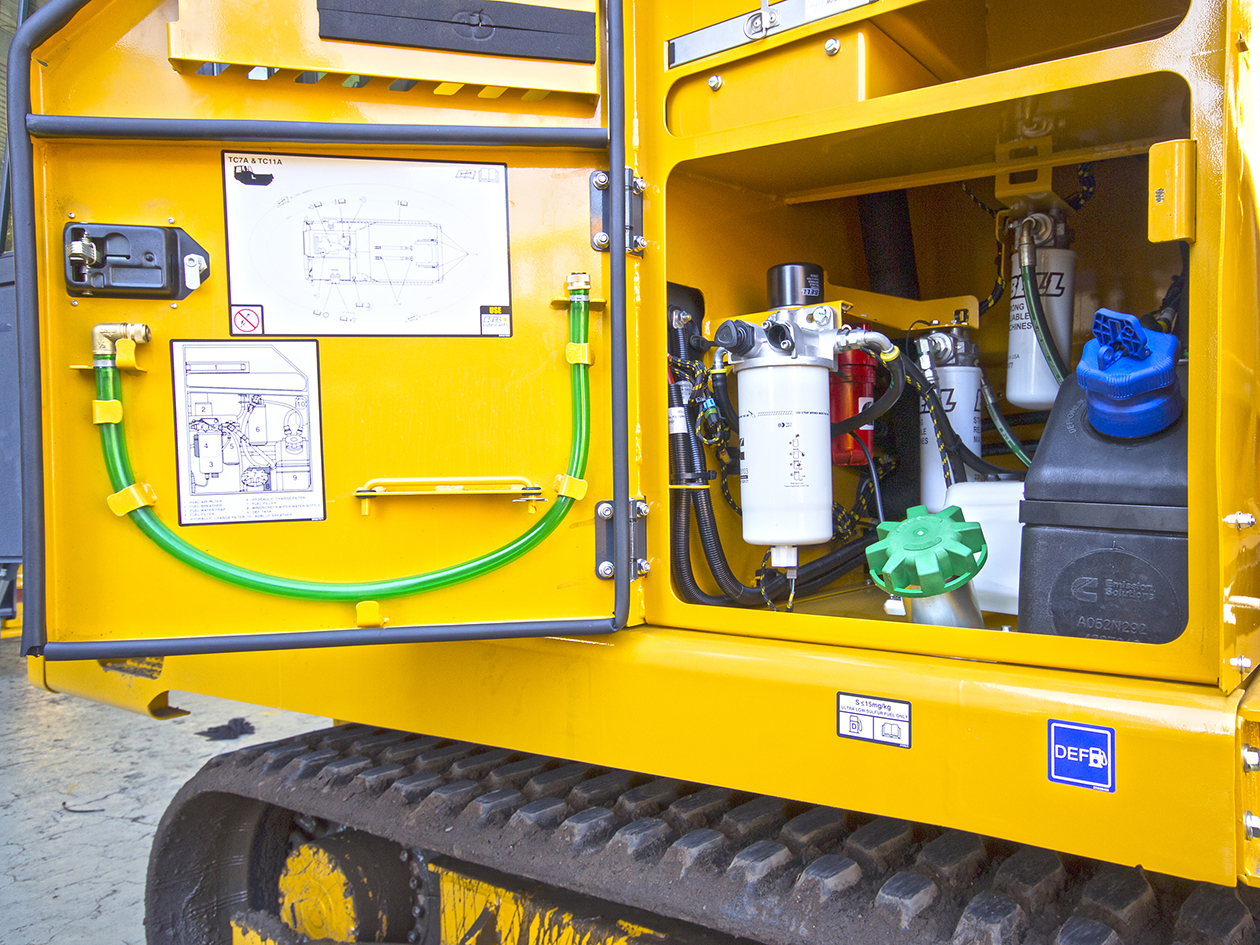 All service items are easily accessible from ground level.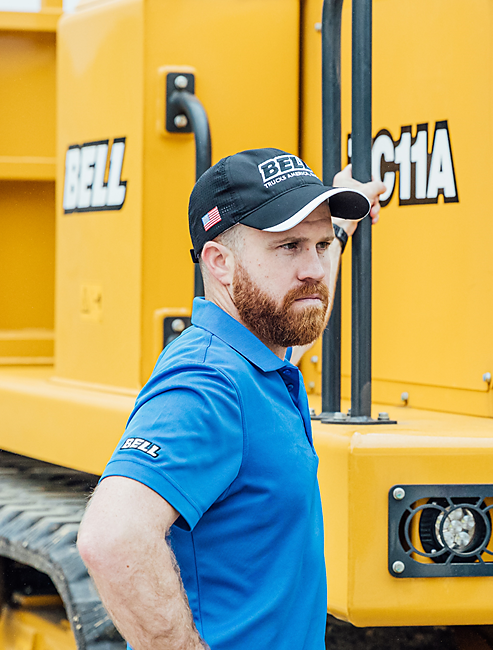 Bell Equipment's Product Manager Brad Castle