Bell ADTs offer best utilisation in the fleet for Murphy Plant
Published: 06 May 2022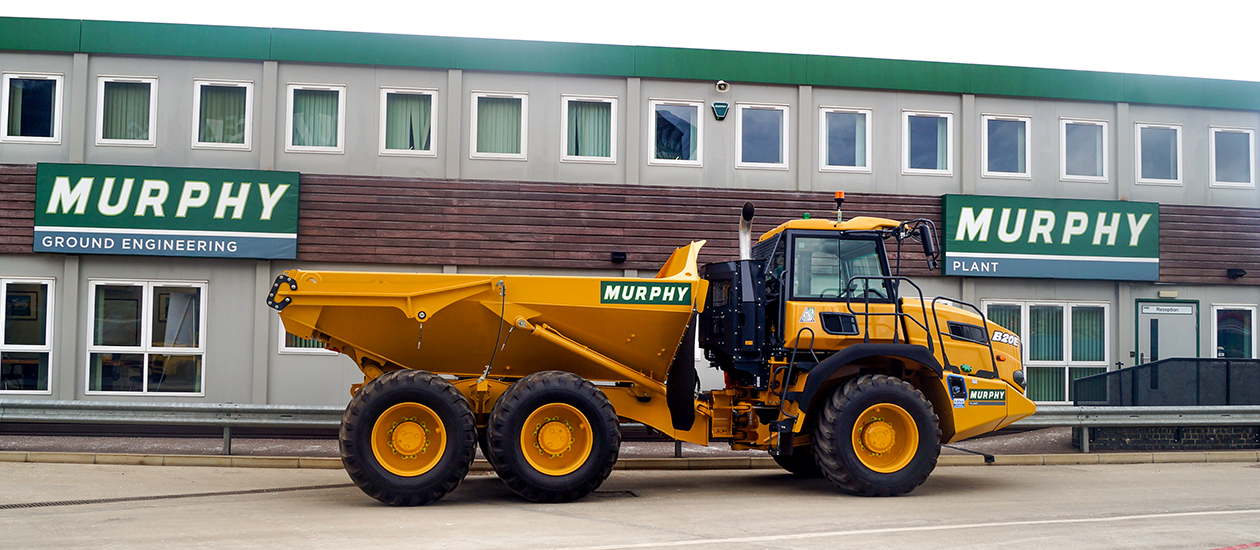 Murphy Plant Limited added Bell Articulated Dump Trucks (ADTs) to its extensive fleet of plant and machinery in 2020 following a week-long demo of a Bell B20E. Murphy's mix of contracts had evolved over time and they were looking for machines capable of working on a number of projects including HS2 and the East West Rail Link.
The initial trial took place at a site where cables were being laid for an offshore wind farm. With 60 kilometres of haulage road to create across the Lincolnshire countryside, the machine proved to be highly versatile and capable of handling some narrow site sections, whilst working productively in all ground conditions thanks to its low ground bearing pressure. The ADT operators, importantly, provided exceptional feedback on the cab and controls.
A deal for four units was agreed following a visit to Bell UK's Staffordshire HQ where a procurement team from Murphy Plant, including Operations Directors, Brendan Sugrue and Damien Strangeway, and Service Manager, Declan McGuire, were able to see for themselves the extensive support on offer. From a highly experienced team of Bell service engineers and extensive parts stocks to the Bell Fleetm@tic® telematics system, Bell UK's slick service operation helped to seal the deal.
Brendan Sugrue, who has worked at Murphy Plant for 30 years, takes care to ensure that every piece of plant meets the company's commitment to providing innovative and best in-class equipment and aftercare. "You can buy all the best equipment in the world, but support is everything," he says.
The four ADTs were put to work hauling spoil on an HS2 site near Leamington Spa with positive feedback from both the project team and the drivers. Site Manager, Jerry Brosnan, noted that the larger trucks were parked up while the Bells continued working. Consequently, Murphy purchased two more units in 2020 to work on the site.
Telematics data highlights the productivity of the Bell B20Es – another attraction for Murphy's Operations Director. "As well as monitoring fuel efficiency, location and performance, Fleetm@tic®, which feeds into our wider telematics system, has given us an accurate guide to utilisation," says Brendan. "At 93-94% the Bell dumpers are consistently our most-utilised pieces of equipment. There is hardly time to turn the machines around in our yard before they are required on the next project."
This exceptional utilisation rate also reinforces the machines' reliability. Telematics has the capability of highlighting machine idle time and - aside from regular servicing and maintenance schedules - downtime is rare. Going forward Brendan believes the company will continue to see the benefits of digitalisation. "I am satisfied we have no servicing or parts issues with the Bell machines, because the maintenance teams would inform me, but data capture from telematics also enables me to get an accurate handle on every bit of plant. We use this to assess actual working hours, which has helped us to eliminate wasted engineer journeys and enables us to undertake servicing based on real hours. Ultimately this improves our sustainability as a business. This accurate data is also fed into our bids for new work."
Three more Bell B20Es were delivered during 2021 to meet demand on existing work sites, whilst another three delivered early in 2022 has increased Murphy's total hire fleet of Bell ADTs to 12 trucks.