Bell celebrates third group of PMI graduates
Published: 03 December 2018
A tough year of part-time studies and personal sacrifices culminated in a jubilant graduation ceremony earlier this month for sixteen Bell employees who have completed the Operations Management Development Programme (OMDP) under the auspices of the Production Management Institute of South Africa (PMI).
"As an organisation it's a joyous day to celebrate with employees who have improved on their skills and knowledge to improve their futures," said Bell Director: Group Human Resources, Johan van Wyngaardt in his opening remarks.
Executive Manager: Manufacturing, Clive Hodgson, explained that the programme started a few years ago when Bell went through a significant expansion and found it difficult to find suitable production supervisors and managers externally. "The guys we brought in tended to struggle because there aren't many companies that do what we do. We cover a diverse range of work from machining to plate cutting to welding to packing containers, and people battled to fit in because of the diverse nature of work and the diverse group of people that work here."
Bell then took the decision to start developing its own people internally. "We realised that we've got a large group of highly talented people inhouse that we should develop instead of trying to bring people in from the outside each time."
This is the third group of supervisors to have been through the OMDP programme and there has also been a manager group. "The training is worthwhile from a Bell perspective because we've seen massive benefit from the groups that have already been through the programme," said Clive. "Initially we started with a production bias, with a focus on production managers and production supervisors. Standing here today, it's pleasing to see that this is no longer so. We have IT people, export people, quality people – it's a wonderfully diverse group and they have delivered a great set of results."
In congratulating the students, Wendy Lange, PMI Academic Manager for KwaZulu-Natal, said: "Graduations, for us, are just the most special events in our calendar year. You've worked hard and we get to celebrate your success. We are really, really proud of you and you should be really proud of yourselves because to be a part-time student is not for sissies."
Stacy Reddy, Acting Manager: Tool and Design, was announced the Top Student and was rewarded with a bursary from PMI to the value of R37 000 to study the NQF6 Diploma in Operations Management at PMI in Durban. The bursary covers the tuition costs for the year along with books, study guides and the exam entrance fee. Bell Equipment has added to the bursary by covering transport and other programme-related costs.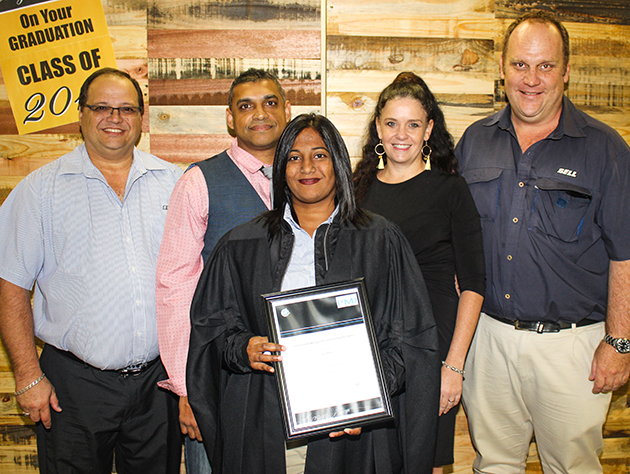 Top Student, Stacy Reddy.