Bell donates towards Amangwe Village creche initiatives
Published: 23 May 2018
Bell Equipment, a proud founder member of Amangwe Village, which was started in 2002, has followed up last year's donation of a new Nissan MP 300 double cab bakkie with a substantial donation towards the organisation's Early Childhood Development initiatives.
Commenting on this year's donation, Bell Equipment Group Human Resources Director, Johan Van Wyngaardt said: "We like to change the area of focus each year to impact on a wider range of needs. This year's donation is an important opportunity for Bell to contribute to the quality of life of children who come from impoverished backgrounds and need a little help up in life."
He visited Amangwe Village to see how the donation has been put to good use to improve the aesthetics. The two crèche buildings have been repainted inside and out and the awning between the two buildings has been replaced. The kitchen, where hot, nutritious meals are prepared daily for the crèche children, was also given a repaint.
"The state of the buildings was absolutely desperate for us and the awning was starting to become a safety issue," explained Amangwe Village Manager, Erna Steynberg.
Mrs Steynberg said the balance of the donation was being used to sponsor 24 children to attend the crèche for a year as their households were unable to afford the crèche fees. The funds would also provide stationery packs and satchels to those children who graduate from the crèche at the end of the year, to prepare them for Grade 1.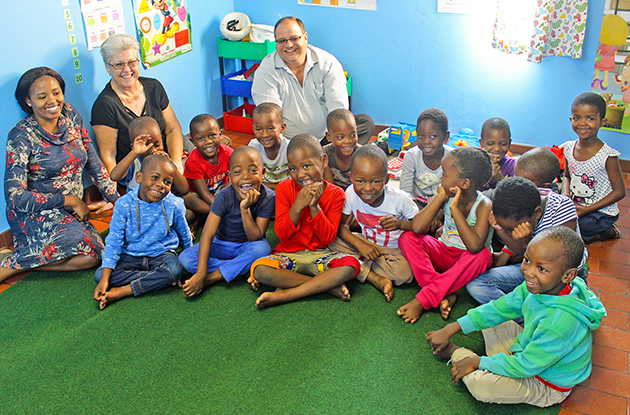 A coat of paint goes a long way to improving the morale of the staff and it gives the children a clean and colourful crèche of which they can be proud. With the children are Lungi Dube (Social Worker), Erna Steynberg (Amangwe Village Manager) and Johan Van Wyngaardt (Bell Equipment Group HR Director).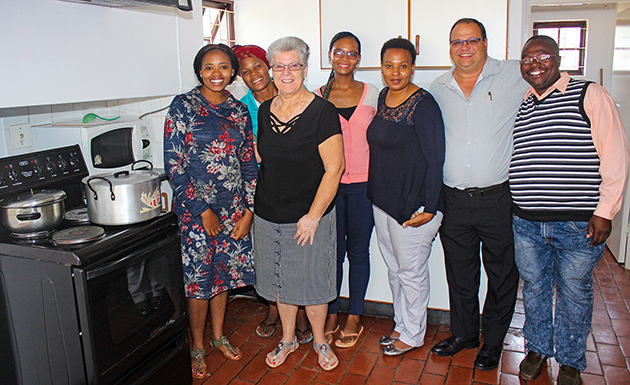 Inspecting the kitchen, which has received a much-needed repaint, are (from left): Lungi Dube (Social Worker), Nhlanhla Mbuyzi (Crèche Cook), Erna Steynberg (Manager), Nontobeko Biyela (Receptionist), Thandeka Mbhamali (Social Worker), Johan Van Wyngaardt (Bell Equipment Group HR Director), Amose Mtshali (Home Based Care Coordinator).