Kobelco and Waratah prove 'quick and reliable' in Swaziland thinnings operation
Published: 29 August 2018
Trees in a pulp rotation compete for light, moisture and nutrients. If the trees become older their growth slows and they become susceptible to insects, diseases and mortality sets in.

Thinnings are cuttings or intermediate harvests made in immature compartments to stimulate the growth of the remaining trees and improve the health, yield and profitability of the compartment.
In the forestry industry thinnings has traditionally been the neglected arm of the industry as it has always been seen as a labour-intensive and time-consuming operation as well as due to the expense to remove sub-dominant trees. Mechanised harvesting equipment did not have the reach to make the popular seventh row thinnings workable and manual felling and extraction had to be used. Until now…

Barend Steenkamp, part of the fifth generation of Steenkamps in Swaziland, owns and operates J & B Timbers in the Sicunusa area in the south-west of this picturesque country. Along with his wife, Carmia, they have built their contract timber harvesting business into one with a solid reputation as caring employers and innovative thinkers.

"Our clients, Montigny, grow pine of which the majority goes to their saw mills," Barend says. "They have determined that we do fifth row thinnings on their trees that are between 9 and 12 years old and we've put in a fair amount of research of our own to see how best we can mechanise this operation."

Barend explains that as so much care needs to be taken not to harm the remaining stems, doing thinnings successfully takes a lot more forethought, planning and time. "We started our research in a compartment that was to be clear-felled and even marked certain trees as if they were part of the thinnings. We had the luxury of having a Matriarch FASTfell felling and bunching machine as a demonstration unit and, after intensive testing, we bought the machine with the confidence that this was the correct tool for felling trees marked for thinnings extraction. You should appreciate that we had no reference of other contractors' experience in this field which makes us in all modesty feel as if we're doing some pioneering work here."

J & B Timbers already owned a Matriarch Skogger timber extraction and loading machine and combining the Skogger's bunching and extraction ability with the felling agility and speed of the FASTfell was a no-brainer. Timber from thinnings is however not wasted and to match the Montigny company's mantra of extracting maximum value out of every tree, this felled thinnings timber needed to be processed infield for that purpose.

Barend explains what they did next. "Allow me to say that we have never thought that our increased mechanisation drive should replace people as we are still of the opinion that people are our biggest assett and clear-felling Eucaplyptus as an example, can be done manually. No person on our payroll has lost his or her job because of us mechanising."

"We did, however, need a quicker and reliable infield processing method for the felled thinnings and for this reason we approached Bell Equipment in Swaziland on whom we've relied heavily for equipment, technical back-up and above all, so much valuable information regarding our industry, which they were happy to supply."

Barend consulted with Charlie Boucher, Customer Service Centre Manager of Bell Equipment Swaziland and Charles Inggs, recently appointed Product Manager: Forestry and Agriculture for Bell Equipment Sales Africa, based in Nelspruit. Together, they decided the Kobelco SX260LC-8 Excavator fitted with a tried and trusted Waratah H290 Processing Head was the correct combination for the job at hand. The processing head has been extensively used in the rest of the world but is a recent arrival in Southern Africa.

"We know the Kobelco SK210LC-8 Excavator would have served the purpose equally well, but we decided the heavier machine would idle through the work without overrevving the engine and still get the correct hydraulic flows to the processing head. This machine can, however, be used in clearfell operations as well. As safety is a major concern in forestry, we needed to add some safety equipment to the Kobelco carrier and for this we turned to Anthony Visser, a Product Specialist at Bell Equipment in Nelspruit who oversaw the project with great success."

The following safety equipment was added to the Kobelco SK260LC-8 Excavator:
• A steel cage surround bolted on in sections for easy replacement should only one section get damaged
• Finer grids over engine vent ports to prevent debris such as pine needles from entering the engine compartment
• A fire suppression system
• An automatic lock-out switch in case of an engine fire. This is doubled up by a manual lock-out switch in the cab
• A bullet-proof windscreen in addition to the normal windscreen
• An additional step at the cab door
"We're really getting into our stride, smoothing out the sequence of thinnings felling, extraction and processing now," Barend says. "The Matriarch FASTfell works from 06h00 to 18h00 while the Skogger, which works a bit slower due to avoiding damage to the remaining stems, is used from 06h00 to 01h00. The Kobelco SK260LC-8 is deployed in two shifts of 10 hours each."
"We work based on average tree sizes being 0,18 cubic metre per tree and we process the timber into lengths of 6,1m, 4,3m, 2,5m and 3,1m for saw timber and 2,4m for pulp. Our ideal is to reach 3 500 tonnes per month which roughly translates into 35 hectares a month, a manageable figure."

J & B Timbers work on wet fuel rates, so fuel consumption is important to Barend and his team. They have been well pleased so far with fuel consumption of 5,7 litres an hour for the Matriarch FASTfell, 7,6 litres for the Matriarch Skogger and 17 litres an hour for the Kobelco carrier.

"This is essentially a silviculture operation as opposed to normal harvesting and our purpose is to create more growth space for the remaining stems. For this we needed the correct tools and having Bell Equipment back us in terms of reliable and uncomplicated equipment, technical back-up and above all, solid advice, makes it all worthwhile," Barend enthuses.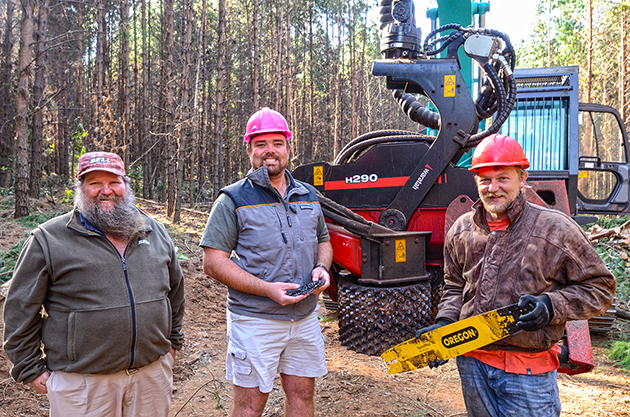 (From left): Bell Product Support Representatives, Bruce Larkan, with Barend Steenkamp and Edmund Bothma of J & B Timbers.