Kobelco Excavator increases production for Johnson Bricks
Published: 12 November 2018
Should owning a new excavator that uses only two litres more fuel an hour than its predecessor but delivers sixty percent more production make sense to a clay brick producer?
You bet it should and this is exactly what a well-known clay brick producer in South Africa's Western Cape has found.
Johnson Bricks of Oudtshoorn has been making common, semi-face and clinker clay bricks for more than a century. Larger 'Jem-blocks' create value for low-cost housing projects. Any type of Johnson's bricks is sought after as far afield as Knysna on the Southern Cape coast and Barrydale, De Aar and Victoria West inland.
The Truter family bought Johnson Bricks in 2007 and, although they retained the established name, Martin Truter and his sons, Lawton and Ian, now run the business supplying the market with 22 million bricks a year.
"Making clay bricks is as old as the hills and we mine our own clay from a pit adjacent to our brick-making plant," Lawton Truter tells us. "We dig out the clay using an excavator and then load the clay into two Bell Articulated Dump Trucks (ADTs) that we inherited from the previous owners. The ADTs haul the clay to the plant, some 800 metres away."
The two Bell ADTs, one a 2005 model Bell B18D Mark 1 and the other a 2006 Bell B30D, have now each clocked up over 19 000 hours and are still in constant daily use.
The clay is first fed into a crusher using two Bell L1506E Wheeled Loaders before it passes through an extruder and now contains some 18% moisture. Upon exiting the extruder, the clay is cut to size, depending on what bricks are required.
"Once cut, the 'green' unbaked bricks are stacked onto pallets and then the machines that we regard as the real backbone of our entire operation, our Bell 220A Versalifts and Bell 120A Rough Terrain Forklifts, move these pallets to an area set aside for drying the bricks outside," Lawton explains. "Without these Bell three-wheelers our entire plant would come to a halt."
When 3% moisture content has been attained the same Bell Versalifts and Forklifts are used to build the clamps where the bricks are fired and break them down again once the bricks have been fired long enough.
Lawton is however keen to take us back to the start of the brick-making cycle and more specifically, to the company's loading tool in the pit.
"We previously used a 27-ton excavator fitted with a 1-cubic metre bucket to dig and load the clay in the pit," he says. "On an average day this machine could send 54 truck-loads away in the Bell ADTs while consuming fuel at 21 litres an hour."
"We have subsequently bought a new Kobelco SK350LC-8 Excavator which weighs 35 tons and is fitted with a 1,8-cubic metre bucket. While it does use 2 litres of fuel more per hour, it puts 87 truck loads into the daily feed to the plant, which is an increase of over 60%!"
Lawton explains that they needed a bigger and faster excavator to fully utilise the capacity of the two Bell ADTs and, with more time on his hands due to the Kobelco SK350LC-8's speed, operator Johan Loufs has time to clean up the mining area and tidy the loading platform.
"I've had more than 15 years of experience operating excavators, especially those sold by Bell Equipment and I took to this new Kobelco machine like I belonged in it," Johan says. "The cab has great all-round visibility and the controls feel smooth and true in my hands."
Due to harsh environmental conditions in the Little Karoo where summer temperatures can reach 48°C, Johnson Bricks will service their Kobelco Excavator every 300 hours, which is sooner than the recommended 500-hour interval. Lawton and his team believe that this will give them the planned productive life of 7 years for a hardworking excavator.
"We've been very happy with the overall performance of this new Kobelco Excavator and plan to change the ground engaging tools on the bucket to improve digging into harder clay. The machine has been bought with a standard warranty but we may decide to extend the warranty at some future stage. Right now, we can rest assured that the machine is in the good hands of the Bell support staff, Koos Matthee, Thys Bester and their mechanics, from the Bell Customer Service Centre in George.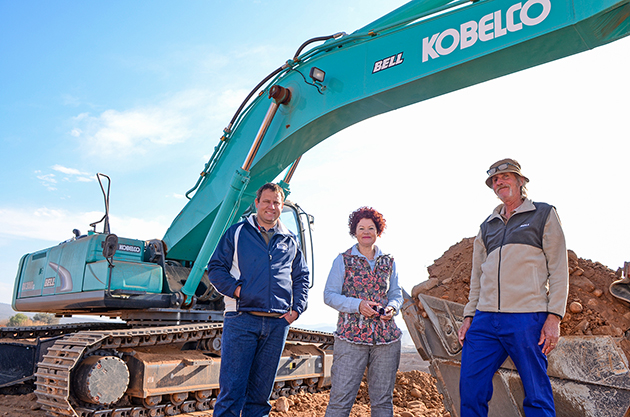 Director Johnson Bricks, Lawton Truter (left), with Bell Sales Representative, Fiona Johnson, and Johnson Bricks Excavator Operator, Johan Loufs.