Sisters make investment for the future with income earning capabilities of Bell Equipment B30Es
Published: 20 November 2018
Sisters with a plant hire heritage, Hollie and Ruby Finnegan, have chosen to make investments that chime with their family's proven business success, as the two young business-women from Leicestershire realise profits from hiring their Bell Equipment B30E ADT machines to clients.
The sisters, whose family operates Midlands' hire company JoinPoint, have both worked for the reputable firm; and through being employed as account managers, working on the factory floor and attending Hillhead exhibitions, have learnt the company ropes from a client-facing perspective.
While Ruby, who graduated with a media degree from Lincoln University, now runs her own event management company, Hollie, a Manchester University psychology BSc graduate, has immersed herself into the family business, experiencing first hand, the financial opportunities that can be afforded through operating and maintaining high quality, reliable plant machinery for onward hire to a necessitating client-base.
Considering the options for making sound future financial investments, Hollie (aged 23) and Ruby (aged 26) decided to investigate the feasibility of purchasing plant as a means to generating personal income: "Having a sound understanding of the plant hire market; its needs, expectations and trends, we both felt that the buying and hiring of a plant vehicle each could present a viable alterative to investing in bricks and mortar," says Hollie Finnegan, the first of the sisters to invest.
"After considering the climate of the construction market, in light of numerous infrastructure projects taking place around the country that currently draw on the fleet capabilities of our family firm and others like us; we felt the benefits of investing in plant far outweighed the risk."
Sister Ruby continues: "Hollie purchased a machine first, in this case a Bell Equipment B30E – chosen for reliability, proven low levels of downtime, and client popularity.
"Packed with class-leading features designed to deliver production boosting payloads, the B30E, with its enabling onboard weighing technology, has the capability to offer lower daily operating costs, superior ride quality and uncompromised safety standards.
"I then followed Hollie's lead, investing in the same make and model. So far, the decision has without doubt paid off."
Hollie explains that she has experienced positive outcomes by hiring this specific model of ADT equipment to contractors, who use agency drivers to operate the machines on large construction sites. She is already planning to purchase her second truck by the age of 25 and hopes to obtain her CPCS (Construction Plant Competence Scheme) licence, which will enable her to operate machines personally as she continues her progression with the family firm.
For sister Ruby, truck hire has become a side-line business, which has led her to achieve a return on investment through hiring the machine to clients including big name operator, Buckingham. This success has presented her with the viable prospect of running two successful businesses simultaneously.
"No matter what the future brings, for the foreseeable time both Ruby and I will continue to invest in the opportunities plant has to offer," Hollie says. "It's becoming an exciting time to be a woman in the industry; which is starting to benefit more from the ideas and expertise that women are increasingly bringing to the field – a development Ruby and I hope will further continue…along with our ventures."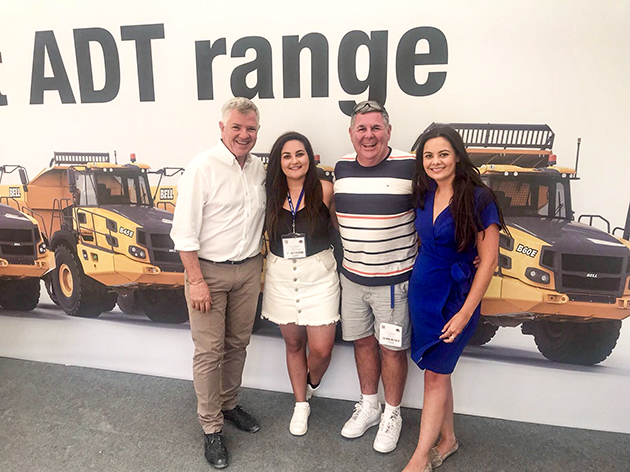 Non-executive Chairperson of Bell Equipment, Gary Bell, Hollie Finnegan, father and Managing Director of JoinPoint, Paul Finnegan, and Ruby Finnegan at Hillhead 2018 in June.