Tru 7 Group invests in Bell ADTs in quest to run the most efficient fleet
Published: 10 June 2022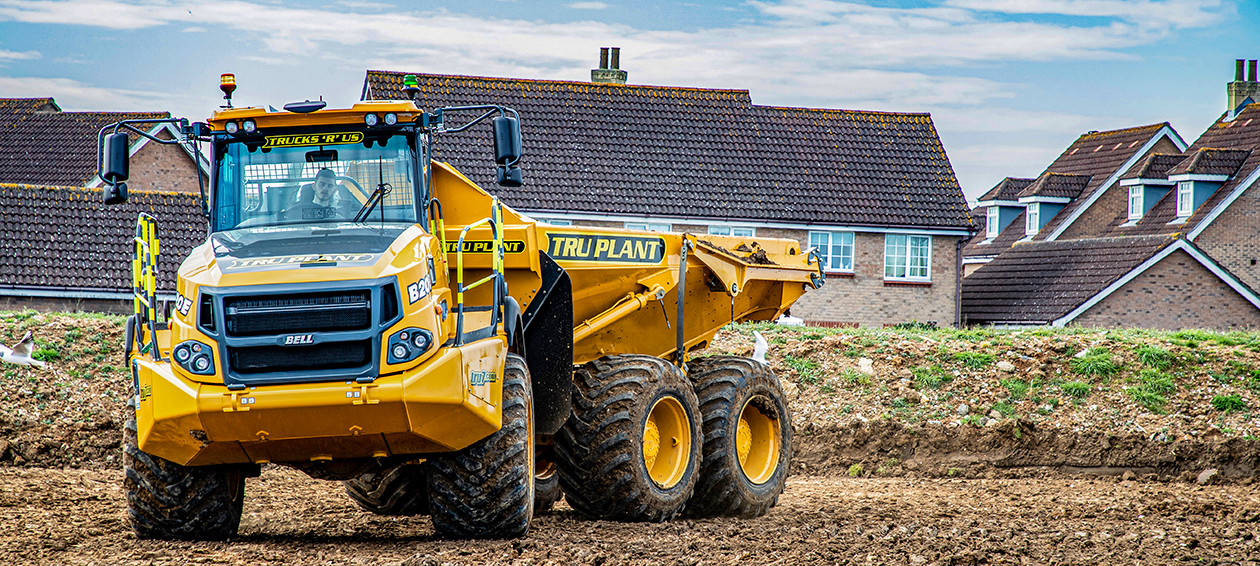 A truly familiar brand in the construction world, Tru 7 Group was established by Guy Nicholls in 2015 following the sale of his previous successful plant hire business. A serial entrepreneur, Guy had bought a former quarry and ready-mix concrete site for development during his previous tenure and this site has since been constructed into an impressive headquarters, equipment yard and production site for the range of Tru 7 brands including Tru Earthworks, Trucks r us, Tippers r us, Tru Agg, Clarke Demolition, Tru mix and Tru Plant.
In 2017, son, Jake Nicholls, joined the family business and in just five years worked his way up to become managing director. It was Jake who masterminded the establishment of the new earthworks business in 2020. After working with the internal hire team to provide operated and self-operated equipment to customers working on construction sites, he recognised that his own team could provide the earthworks services.

Today, the company's ambition is to run the newest, most efficient, lowest emission fleet in the country and – as part of that philosophy – the first ever order for Bell Articulated Dump Trucks (ADTs) was placed in 2022 for 25 of the B20E low ground pressure trucks. The machines, according to Jake, can efficiently adapt to varying site demands: "With a mix of earthmoving projects on the books, including a number of housebuilding sites, we needed additional 20-tonne dumpers that could handle a range of ground conditions and provide low ground pressure on the haul roads with no detrimental effect on performance. After a successful demo of a B20E we ordered 25 units, which enables us to include some in the hire fleet too. We've taken delivery of the first six and the others will arrive over the next few months."

Prior to joining the company full-time, Jake was a world-class motocross rider; living in Europe and competing in global competitions. He still races nationally today. Whilst a connection to the plant world isn't immediately obvious from his background, he has been a lover of diggers and dozers from a very young age; helping to build practice tracks and circuits wherever allowed. He also took a keen interest in the bike mechanics. Understanding soil composition on racing tracks prior to competing - and developing racing techniques to overcome them - is a skill that has arguably proved to be useful when spec'ing machines for earthmoving jobs and highlights an attention to detail that prevails in his role today.

"I definitely came into the business green, but I have learned on the job and benefited from working alongside highly experienced colleagues in the plant team. This has enabled me to understand buying plant from both hire and contracting angles. My racing background has helped me gain a good understanding of site processes and efficiencies, which ultimately helped inform the decision to buy Bell ADTs. Feedback from the drivers has been excellent and I actively listen to them and our engineers when it comes to machines. In general, no news from site is good news and means that machines must be working well. We currently rely on proof from site supervisors and drivers 'on-the-ground' who confirm that the machines are highly fuel efficient," he says.

The whole process of buying machines from Bell Equipment has been a very efficient one and having decided to undertake servicing and maintenance in-house – except for the initial 100-hour service – Bell offered a comprehensive training course for Tru 7 Group's engineers.

"From enquiry to delivery, the experience of Bell has been really efficient. A machine is only as good as the back-up and although it's early days, the aftercare really is exceptional. These days great kit is a given and it's also a given that occasionally a machine will go wrong, so it's important how a manufacturer responds and Bell replies, quickly, honestly and transparently. After five years of buying dumper brands for the business, I am confident that we have the right partner going forward," Jake adds.

The immediate task currently for Jake as MD is to ensure the group is working at optimum efficiency; including better utilisation of the associated companies, such as demolition, to offer a more all-round service. It is the persistent aspiration to be better that led to buying the Bell ADTs – better emissions, better performance and better fuel economy. Being better in the future will include Bell Equipment's own Fleetm@tic® telematics to verify efficiencies and inform decisions.