Bell Equipment at BAUMA 2022: Keeping it special
Published: 19 July 2022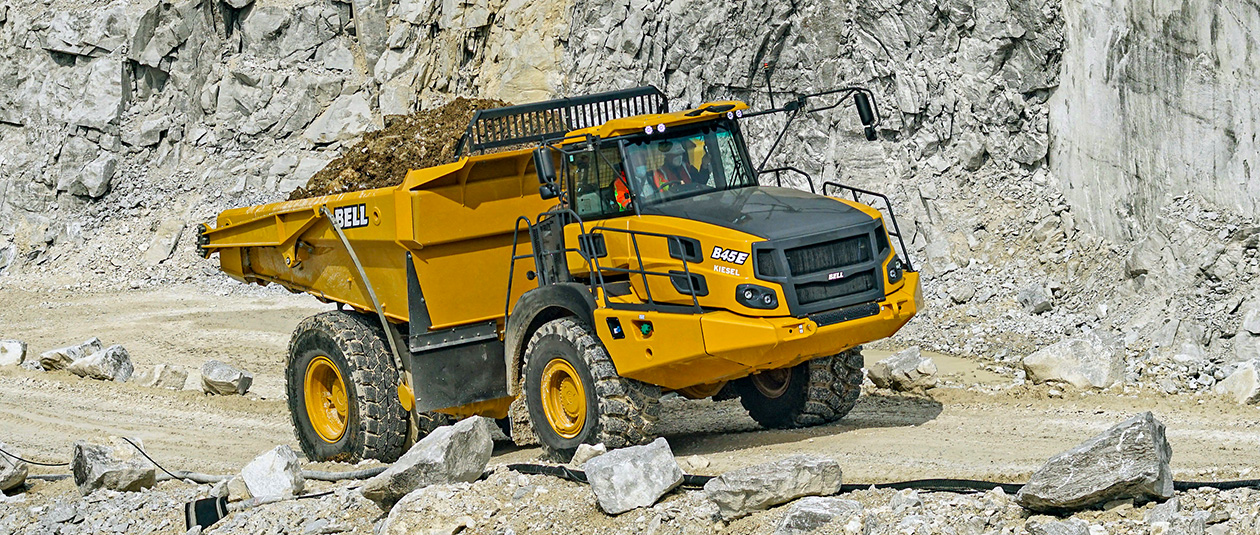 The Bell B45E 4x4 with a 41-tonne payload is specifically targeted at small and medium-sized extraction operations.
As an Articulated Dump Truck (ADT) specialist with the world's largest range of models, Bell Equipment has always been driven to meet customers' needs by delivering specifically designed industry solutions. In Munich, this is demonstrated by the new generation of the two-axle ADT Bell B45E 4x4 and a Bell B30E with a vehicle width of less than 3,0 metres. Both machines offer a compelling advantage to customers with specific requirements.
As a supplement to its range of seven "traditional" 6x6 ADTs, with payloads from 18 000 to 45 400kg, Bell Equipment is the only manufacturer of articulated haulers in the world to offer a parallel range of two-axle ADTs for the past six years. All three models are aimed at different market segments and are strong offerings thanks to the advantages of the 4x4 ADT concept. In the right applications they outperform conventional rigid dump trucks that need good haul roads and the three-axle ADTs designed for extreme off-road mobility.
At the upper end, the Bell B60E 4x4 – with a 55-tonne payload and 35m³ dump body capacity, is now a benchmark for all-weather operations on undulating ground in opencast mines or large quarries. At the bottom of the range, the Bell B30E 4x4 (28t; 18,5m³) is a convincing compact and highly economical solution for sand and gravel pits, material handling or underground operations.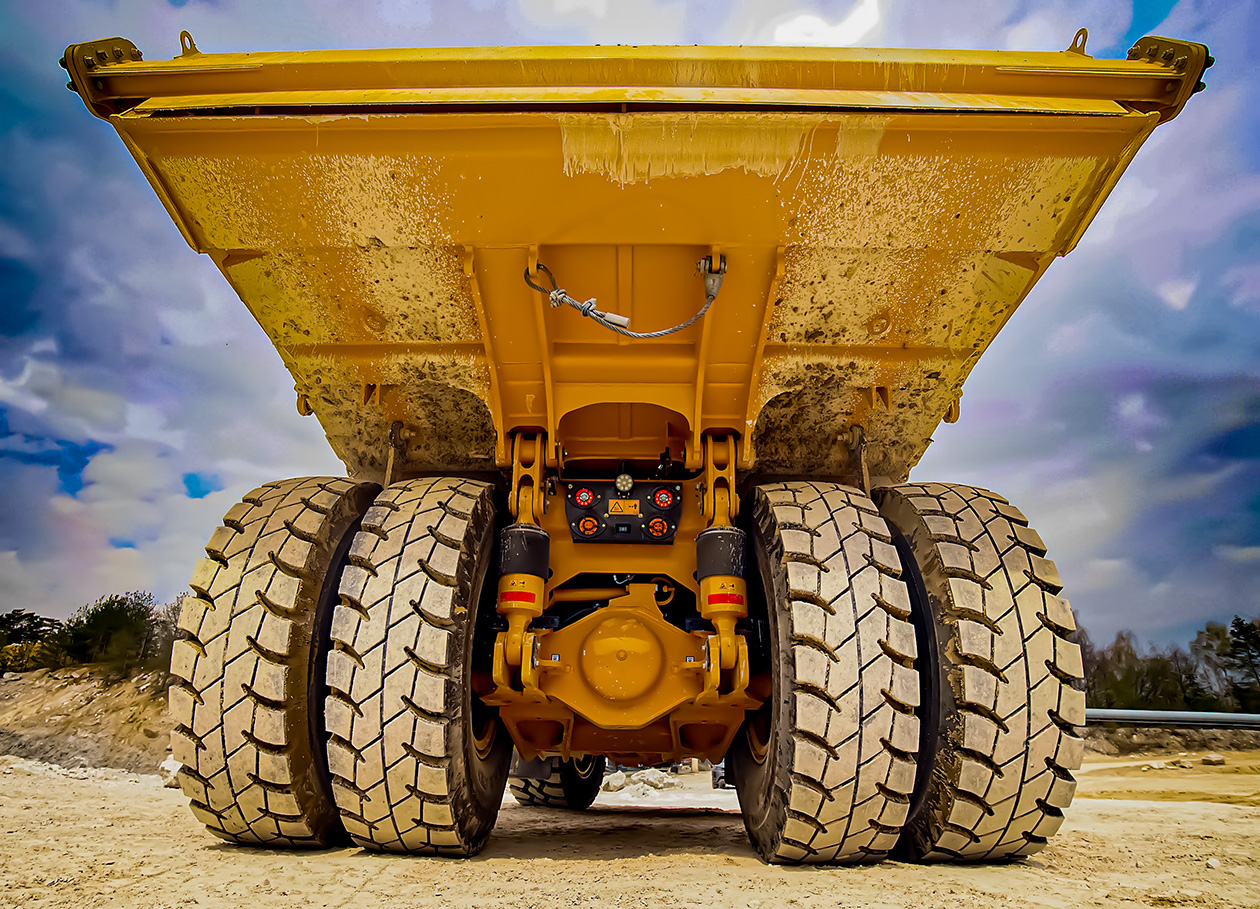 The suspended rear axle brings more comfort and safety.
At home in the quarry
The second-generation Bell B45E 4x4 (41t; 25m³) is aimed at small to medium-sized quarry operations. Here it competes against rigid trucks in the 45- to 55-tonne class or 6x6 ADTs with payloads of 40 tonnes or more. Compared to both types of vehicles, the 4x4 truck shows its strengths to the full in typical hard-stone quarrying on rough ground with steep climbs and tight bends.
In wet weather, conventional 4x2 rigid tippers quickly reach their limits. The all-wheel drive and oscillation joint of the Bell B45E 4x4 always ensure high traction, and the retarder and service brakes can be applied in a very controlled manner even under full load thanks to constant ground contact by all tyres. The high power to weight ratio keeps cycles times low in difficult weather conditions and extends production times in exposed quarries. In addition, the Bell B45E 4x4 can be also used in overburden or new excavations. While this machine does not excel in soft underfoot conditions like its 6x6 counterpart, its twin-tyred single rear axle brings substantial advantages over 6x6 ADT tandem axles on hard roads. In tight corners the tandem axle experiences significant tyre wear and wears the road down. In addition, there is greater manoeuvrability thanks to the shorter rear chassis, which, together with the rock bin typical of quarries, results in faster cycles on the quarry faces or at the primary crusher.
At its first presentation at Bauma 2019, the Bell B45E 4x4 generated a great deal of interest, especially among Central European quarry operators, the 4x4 two-axle vehicle is well suited to their jobsites and productivity requirements. Bell Equipment's product and application specialists also recognised the potential in a segment that is characterised by a shrinking range of corresponding rigid dump truck solutions. Triggered by the company-wide transition of all Bell ADTs to EU Stage V, it was decided to revise the first generation. In addition to the Stage 5 improvements, a number of changes were incorporated based on user feedback from practical tests and initial customer placements.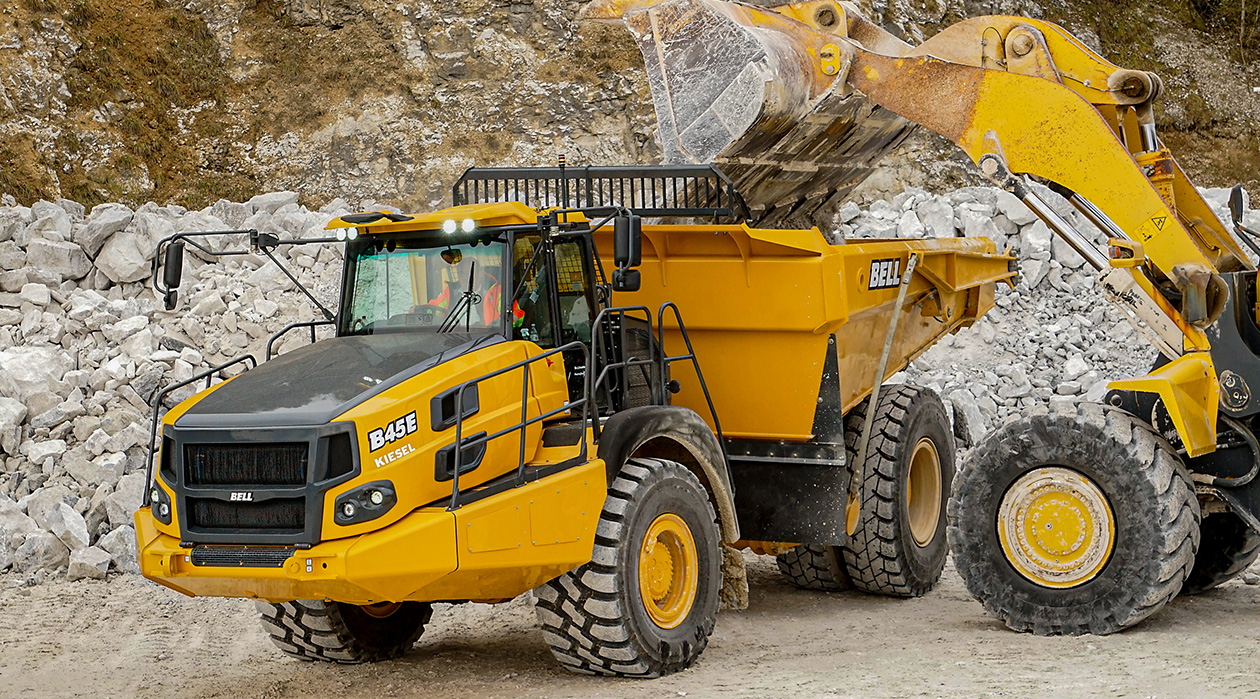 The newly designed rock bin with a straight front wall offers advantages especially when loading with large wheel loaders.
Better driving – better loading
The most significant changes relate to the rear end of the Bell B45E 4x4. The rear axle is now suspended and the bin has been heavily modified. Despite this, the frame length and wheelbase remained almost identical, making the two-axle articulated truck highly manoeuvrable (max. turning circle: 17.31 m).
As with the 60-tonne Bell B60E 4x4, two oil/nitrogen hydro-pneumatic struts now take over the suspension of the rear axle from German manufacturer, Kessler. In combination with the standard adaptive "Comfort-Ride" front suspension, this provides significantly more driving comfort for a vehicle that weighs around 79 tonnes when loaded. In addition to a limited slip differential, the rear axle now also features sensor-supported automatic traction control. The new suspension geometry and kinematics have been designed to allow the 21.00 R35 twin tyres to be fitted with snow chains.
The exhaust-heated rock bin with flat bottom has been completely redesigned: For better matching with the wheel loaders, often typical in small to medium-sized quarries, the standard bin has been lengthened and given a straight front wall. This gives a longer top edge of the body and better filling speed with wide 3,5 to 6m³ rock shovels (bin height: 3 485mm). Both the maximum tipping height (6 485mm at 55°) and the large ground clearance of the chute (890mm) remain almost unchanged. This means that the articulated 41-tonne two-axle truck can be fitted into existing infrastructures (e.g., crusher enclosures) much more easily than comparable 6x6 articulated trucks with a long earthmoving body but offers their advantages over conventional rigid tippers that have a low tip clearance when unloading quickly on any terrain. As an alternative to the 4 265 mm wide 25m³ standard body (with tailgate: 26 m³ / 4,639 mm), a narrower version of the same capacity is now available as an option, ensuring the vehicle width under 4,0 metres with tailgate. The slightly longer "narrow" body with raised bin height (3 671mm) can be loaded with heavy wheel loaders but also works well with excavators.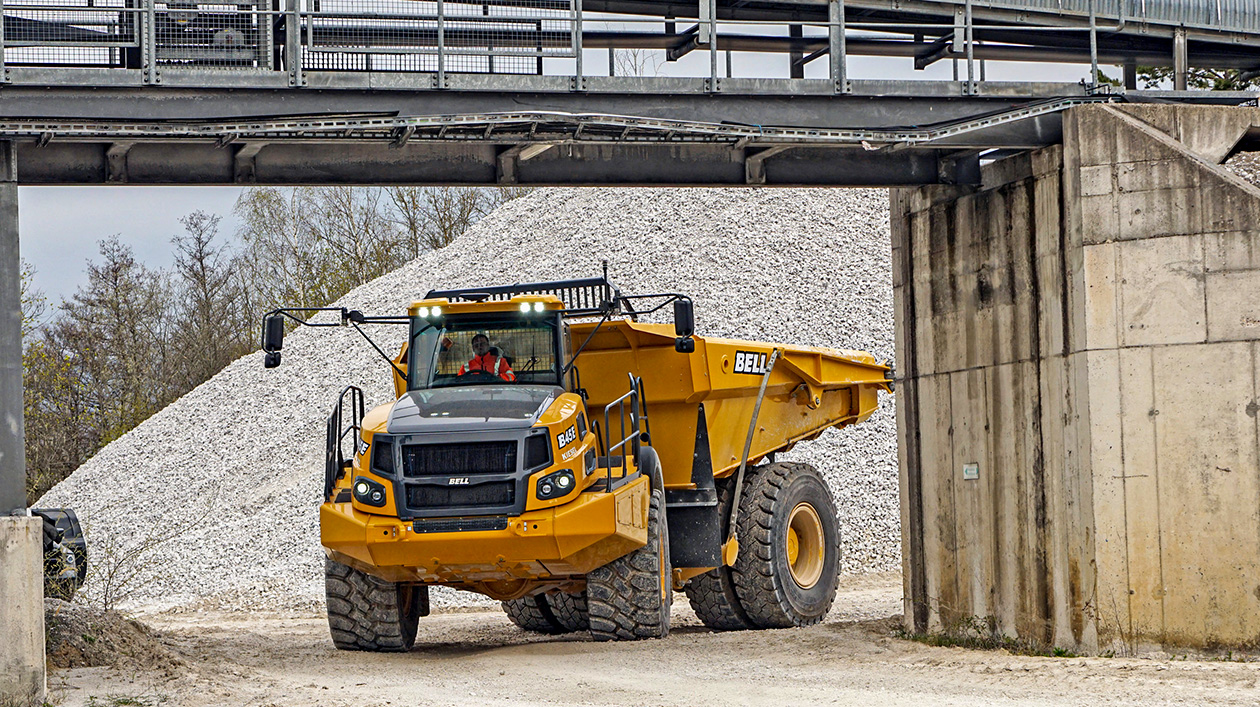 Narrow bends in mining or production are the speciality of the manoeuvrable two-axle ADT.
Cutting-edge technology from large-scale production
The Bell B45E 4x4 has an almost identical front end to its 6x6 sister model, the B45E. This means that operators benefit from Bell Equipment's continuously developed 6x6 articulated large-series technology in terms of drive, power transmission and intelligent vehicle control. Under the bonnet is the 390kW in-line six-cylinder OM471LA from Mercedes-Benz. Exhaust gas treatment to the requirements of EU Stage V is handled by a low-maintenance system consisting of controlled exhaust gas recirculation (EGR), SCR technology and a diesel particulate filter. Together with the "self-learning" Allison seven-speed automatic 4700 ORS, the torque-optimised engine (2 460NM at 1 300rpm) ensures high fuel efficiency, which is reflected in low consumption rates. As with the other current Bell large ADTs, multi-disc wet brakes on both axles work in collaboration with the Jacobs engine brake to provide automatic retardation when the operator releases the accelerator pedal.
The workplace in the spacious Bell standard cab of the B45E 4x4 offers good visibility, high comfort and a complete standard package of driver-related assistance systems. These include, for example, Hill Assist as well as loading and tipping routines that ensure productivity and safety in equal measure. All electronic assistance and status displays are based on real-time measurement data from the networked vehicle sensors (on-board scales, tilt and roll sensors, etc.). Much of this information is also available for computer analysis and tracking using Bell's satellite-based machine monitoring system, Fleetm@tic®.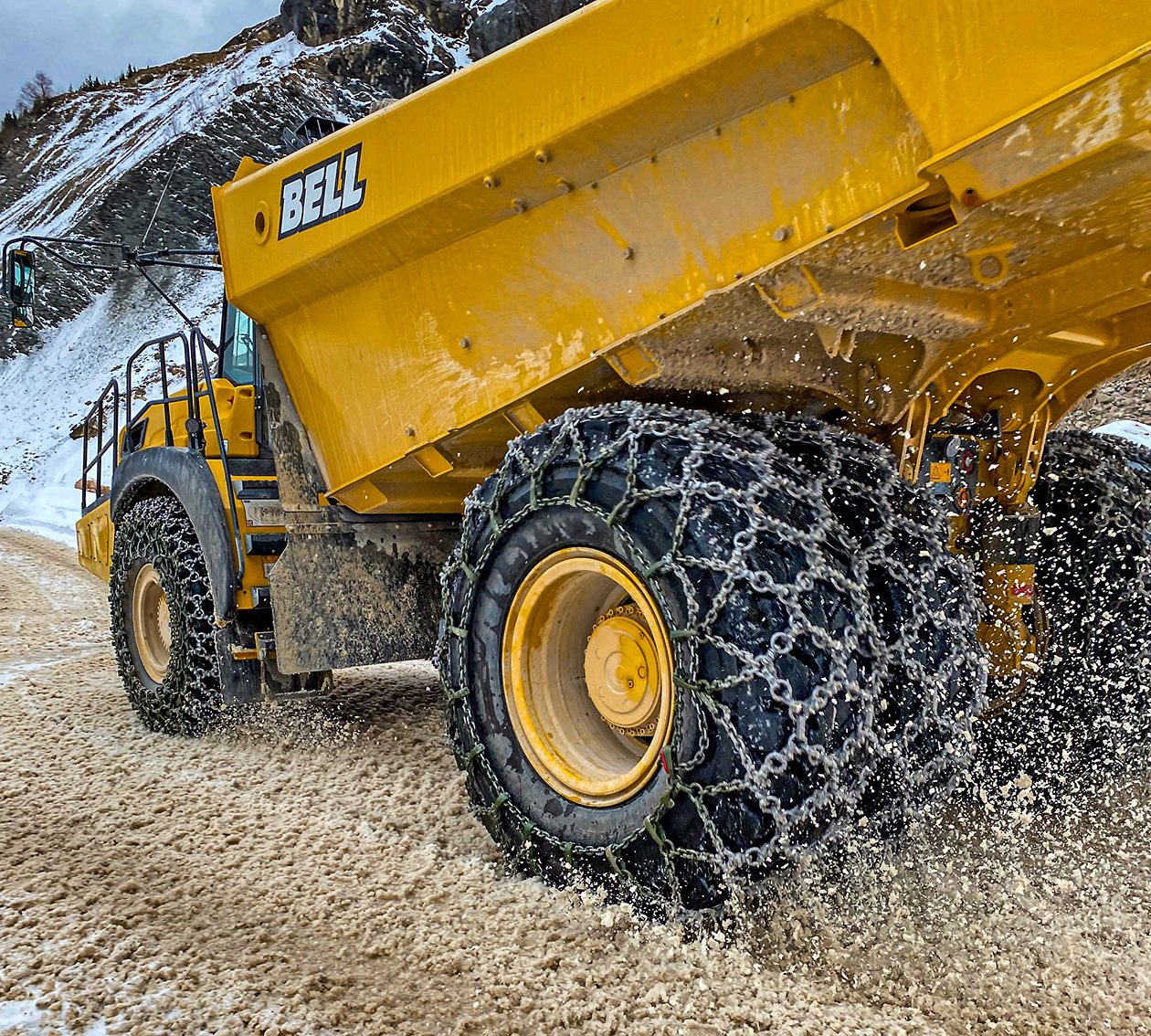 Extreme quarrying: when conventional rigid trucks have long since stopped, the Bell B45E 4x4 extends production even under the most adverse conditions.
The Bell 4x4 range at a glance
Technical Data B30E 4x4 B45E 4x4 B60E 4x4
Engine power, gross 260kW (348hp) 390kW (523hp) 430kW (577hp)
Operating weights
Empty 21 517kg (47 437lbs) 37 154kg (81 909lbs) 42 476kg (93644lbs)
Laden 49 517kg (109 166 lbs) 78 154kg (172 300 lbs) 97 476kg (214 898lbs)
Nominal payload 28 000kg (61 729 lbs) 41 000kg (90 390 lbs) 55 000kg (121 254lbs)
Body capacity (SAE 2:1) 18,5m³ (24yd³) 25m³ (33yd³) 35m³ (45,8yd³)
More flexibility - less costs
Optimised off-road driving characteristics, low ground pressure and high payloads make ADTs the first choice for heavy earthworks, such as infrastructure projects or major developments in residential and industrial construction. As with all other high-performance earth-moving machines, the decisive factors in ADT operations are not only project duration and excavation volumes, but also the organisational effort and the costs incurred for machine transport. Especially in the case of cost-critical short-term operations or frequently changing locations, this favours flexible transport solutions, such as heavy AWD tippers or tractor-trailer combinations. Although these reach the construction site on their own power, they require considerable compromises on the site due to their lower capabilities in difficult terrain or in material handling. These compromises can deviate from "best practice" in terms of performance, work safety and comfort.
Thanks to its superior payload/empty weight ratio (28000kg/20 310kg) and the consumption-optimised drive train (gross: 260kW at 2 200rpm), the Bell B30E has proven to be a particularly economical solution in heavy earthmoving. Many contracting companies in the quarrying sector rely on the 30-tonne truck, and it is likewise popular in the rental sector, where it is one of the stronger competitors in the global market.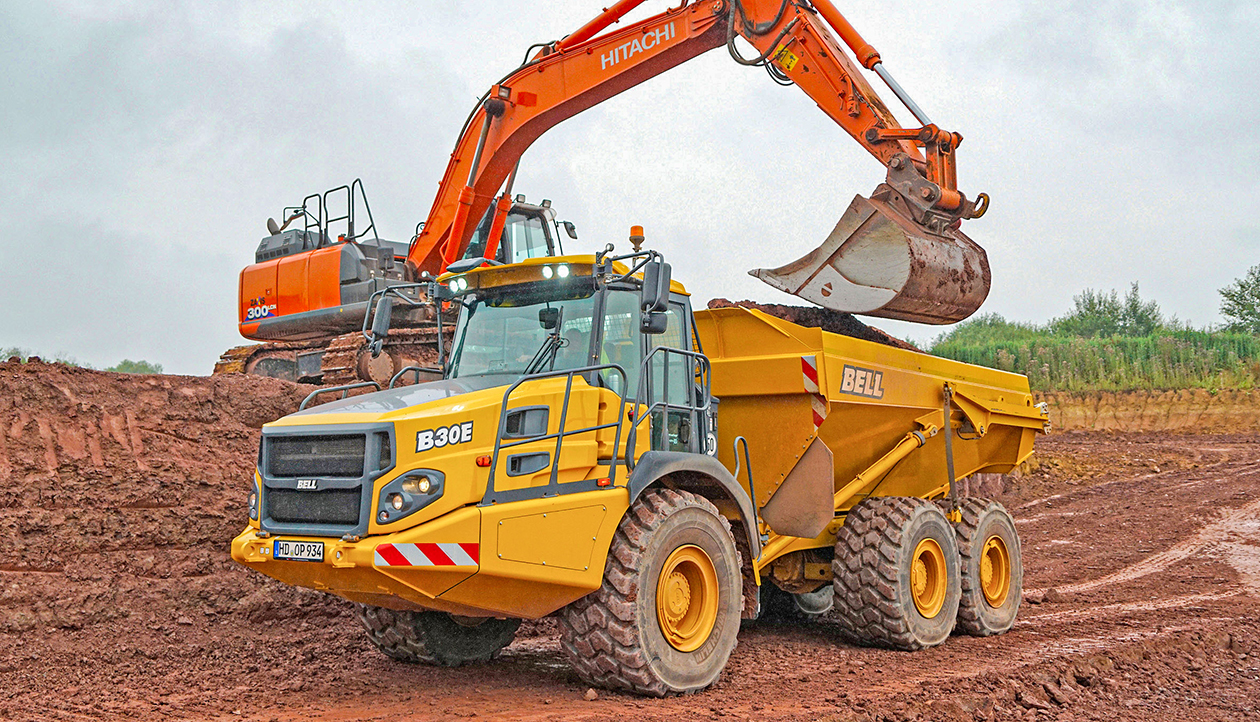 A road-legal ADT enables considerable savings in operational logistics, especially in the joint management of smaller extraction sites.
The standard B30E with a tailgate measures 3 268mm in width (without tailgate: 2 968mm) and thus exceeds the limit of 3,00 metres stipulated in the road traffic regulations of many countries for simple machine transport. And this is exactly where the Bell B30E "Narrow" version presented at Bauma comes in: Its adapted body, including tailgate, is only 2 998mm, which means that the machine can be loaded without time-consuming dismantling of the tailgate and, depending on national regulations, transported under a permanent permit without further registration or escort vehicle. Due to the higher body (overloading height: 2 963mm), the usable volume remains identical – of course, the "narrow body" is heated with exhaust gas as standard.
Bell Equipment went one step further in cooperation with its German sales partner Kiesel: With official German road approval, the Bell B30E "Narrow" can now reach its place of use on its own wheels. The corresponding permanent approval by the regional transport authorities is based on a model certificate that certifies the technical compliance with the critical values for special vehicles and identifies necessary additional equipment. A definitive criterion here was, among other things, the typical axle load distribution of Bell articulated vehicles, whereby the Bell B30E with under 11 tonnes on the "empty" front axle is up to 4 000kg below comparable competitor models in the 25-/30-tonne class. Instead of permanently mounted traffic-compliant lighting units (indicators, etc.), the "Road Bell" has removable mudguards with rear lighting, which are mounted with a few simple steps before the empty vehicle is taken onto the road.
The maximum permissible speed is 50km/h and thus ensures economical transfers even for regional daily operations. The driver benefits from the superior ride comfort of the standard adaptive "Comfort Ride" front suspension and the outstanding interaction of the high-torque Mercedes Benz six-cylinder engine (max. 1450Nm) with the shift point-optimised Allison xFE six-speed automatic 3400 ORS. The automatic retarder function also ensures safe downhill operation, which keeps fuel consumption within tight limits even on longer journeys.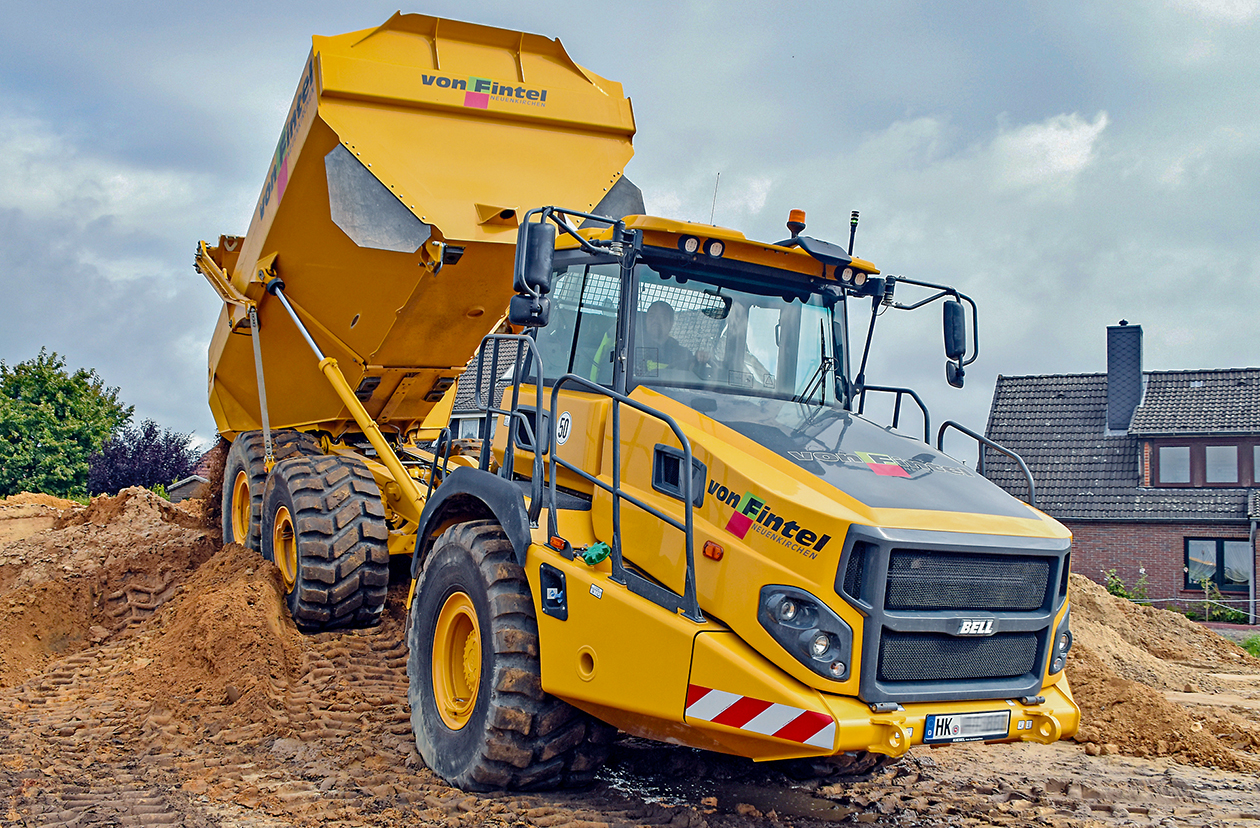 In its element: The Bell B30E with "Narrow body" and road approval is an earthmoving specialist that is far superior in practice to alternative solutions such as tractor-trailer combinations.
Following the introduction of the new Bell B30E road option, various operators have already opted for the model, which comes complete with approval and all conversions. In addition to road and civil engineering contractors with a strong regional focus, there are also quarrying service providers with widespread operations. While the construction companies benefit from the economic availability of the manoeuvrable and highly productive ADTs even for smaller projects, the "Road Bell" scores with significantly simplified operational logistics when managing several smaller quarrying sites.
In addition to the models on display, Bell Equipment will also be providing information in Munich on programme-wide further development of its current E-series. This includes further simplifications in operation through new operating functions, and new features in the Bell Fleetm@tic® fleet management software. In addition, customer service specialists from all global Bell sales regions will provide information on the further expanded service packages for all industries and markets.
Bell Equipment at Bauma: Hall C6, Stand 303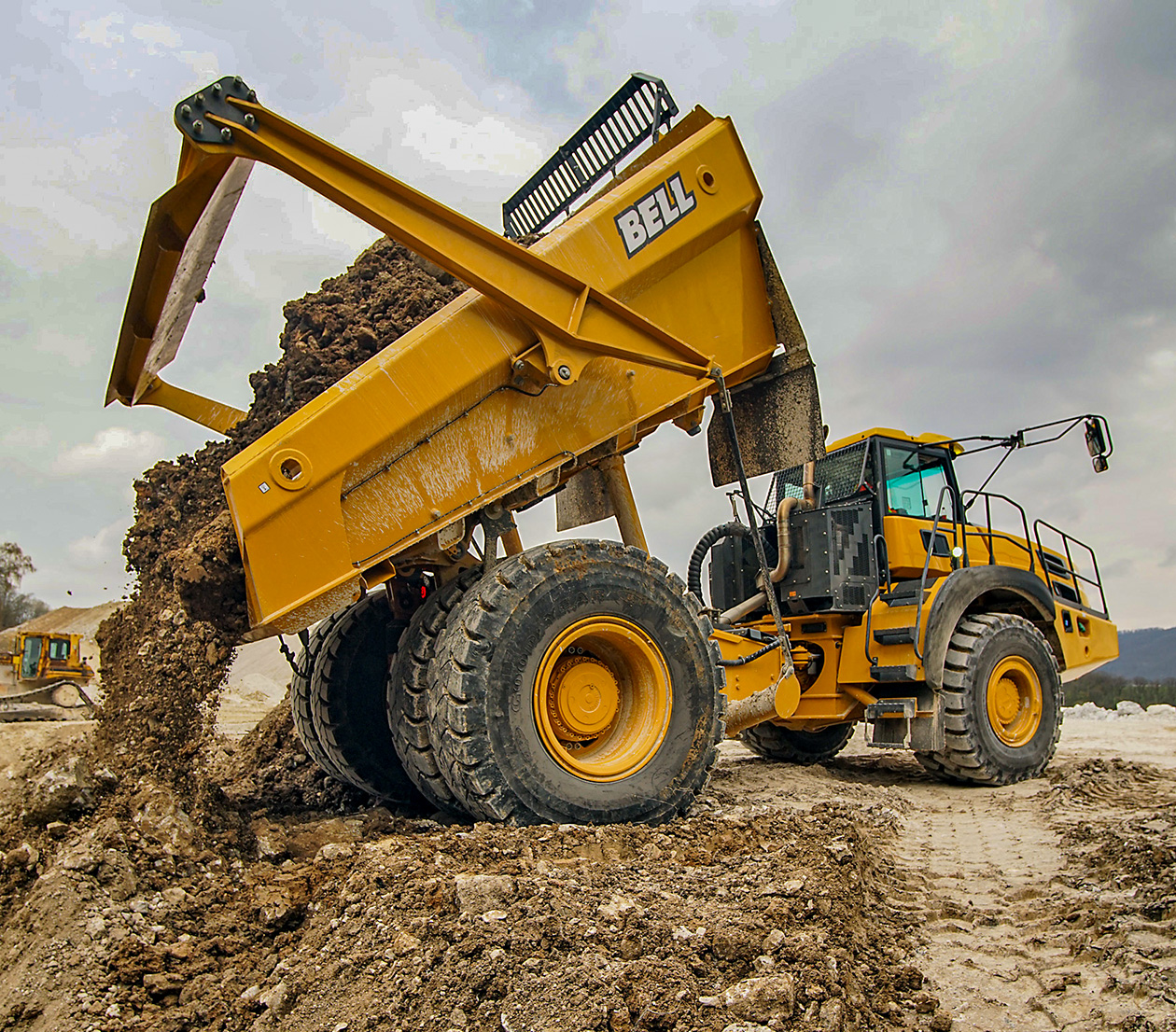 Thanks to standard bin heating and a high chute, the Bell B45E 4x4 dumps safely in rough terrain.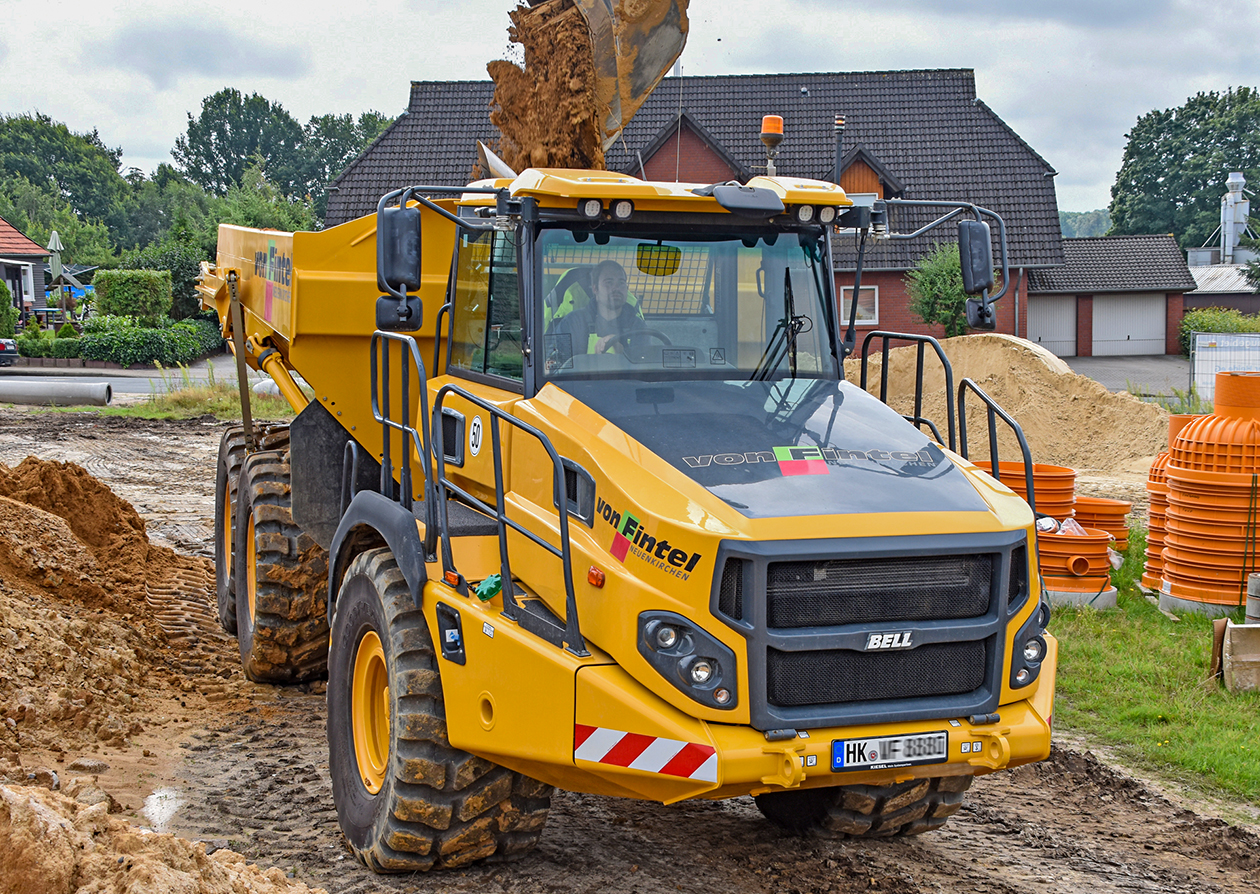 With an overall width of less than 3 000 mm, the Bell B30E "Narrow" simplifies machine transport considerably.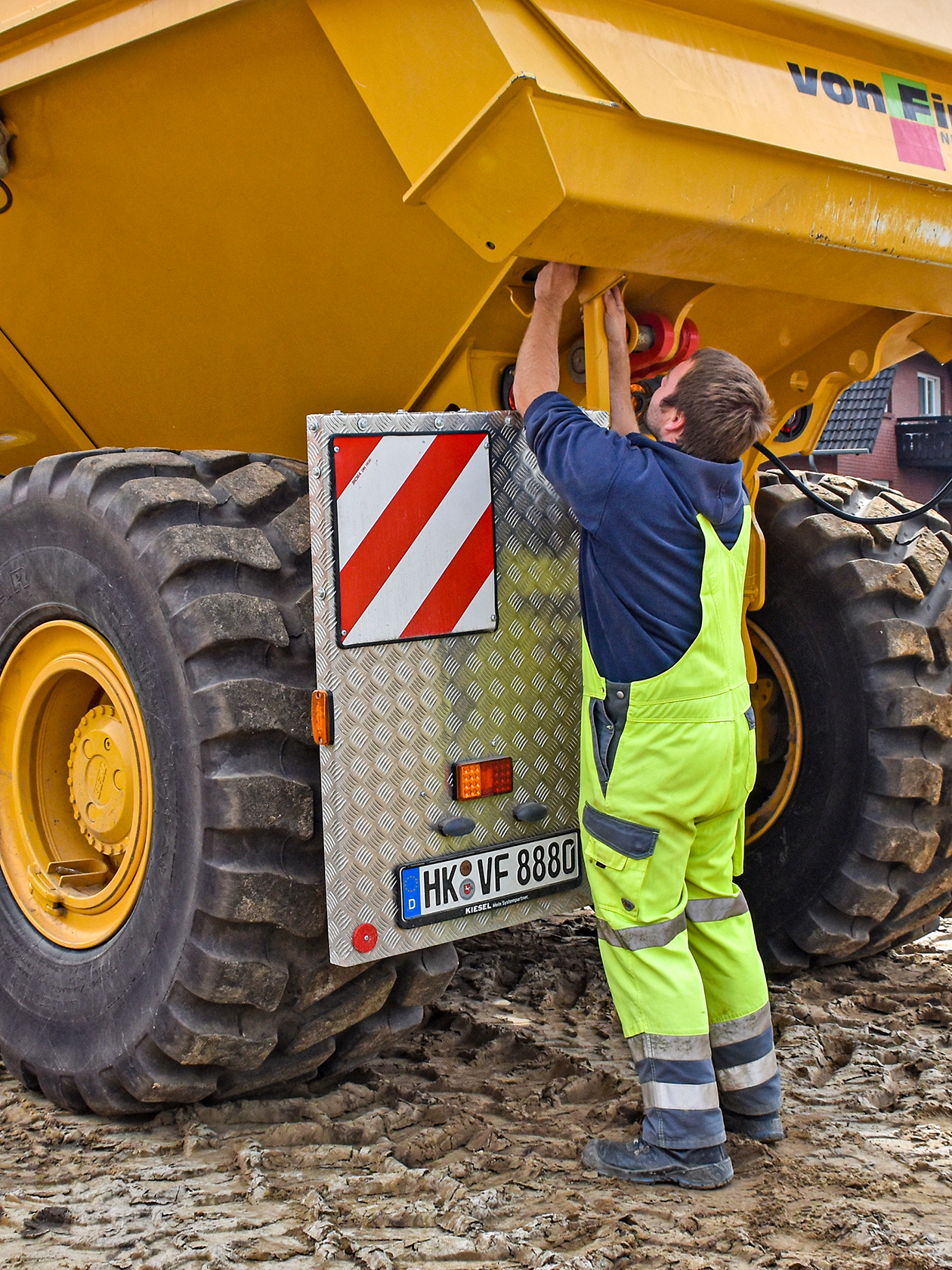 For transfer journeys, the additional mudguards with the rear lighting can be quickly attached and removed.