NAMPO debut for Bell Equipment's latest partner products
Published: 18 April 2018
Bell Equipment will have an assortment of new machines for forestry and agriculture on display at NAMPO following partnership agreements with Japanese excavator specialist, Kobelco, in June 2017 and Russian heavy-duty tipper truck manufacturer and 15-times Dakar Rally winner, Kamaz, in December.
Kobelco
Bell will display the Kobelco SK210LC from the standard excavator range as well as the SK55XSR (5,5t) and the SK135SR (13,5t), two of the three mini excavators models that were added to the range in April. The mini excavators all feature a short rear swing that reduces the turning radius for superior manoeuvrability in limited spaces, making them ideally suited to the compact construction and agricultural industries.
Bell Product Marketing Manager, Stephen McNeill said: "With Kobelco leading the industry in terms of short rear swing excavator innovation we are confident that these machines will gain strong market acceptance locally, particularly since the 5,5t and 7,5t segment is growing in Southern Africa and the 7,5t and 13,5t machines are well-matched for forestry applications."
The standard and mini excavators share the same machine-efficient technology, enabling them to meet Kobelco's design intent for greater performance capacity and improved cost efficiency while taking due care for the environment.
The two digging modes - H mode for heavy duty and higher performance and S mode for normal operations with lower fuel consumption - promote the philosophy of more work with less fuel. To further save fuel, and reduce emissions, the standard Auto-Idling-Stop feature (AIS) shuts down the engine automatically when the engine is on standby. The hour meter also stops to help retain the machine's asset value.
The rectangular cabs are ROPS (Roll Over Protective Structure) compliant and have been designed to offer the operator a quiet environment with a reclining seat, plenty of room and superior visibility. Large analog gauges with large print displays and glare-reducing visors are easy to read regardless of working conditions.
Kamaz
The Kamaz range of trucks includes two 6x4 trucks, with payload capacities of 15 tonnes and 20 tonnes respectively, as well as an 8x4 with a payload of 25,5 tonnes. However, it is the Kamaz 65222 6x6 truck with a 19,5 tonnes payload, which Bell is particularly excited about and will have on display at NAMPO.
"The 6x6 bridges the gap between an articulated dump truck and a conventional tipper. All wheel drive, good ground clearance of 396mm, strength, and inter-axle and centre differential locks allow the truck to operate well on less maintained or more uneven work sites and makes it suitable for operation 12 months of the year," says Product Marketing Manager, Brad Castle. Due to its off-road capabilities Bell anticipates this truck gaining popularity for niche applications such as fire trucks, timber haulage and other rough terrain applications.
The three larger trucks are equipped with proven 400hp (294kW) Kamaz-built engines that supply power through a trusted ZF transmission. This power is successfully transferred onto the ground by hub and differential reductions. The smallest model in the range is powered by the popular 282hp (207kW) Cummins engine, also through a ZF transmission. Due to the lower power only differential reduction is required. All models have traction control for difficult underfoot conditions as well as ABS braking systems.
Air suspended cabs and seats are designed for operator safety and comfort. In addition, Bell offers personalised configurations of the cab chassis according to the customer's requirements enabling the Kamaz trucks to be tailored to all industries from forestry and agriculture, to quarries and mines, as well as general construction.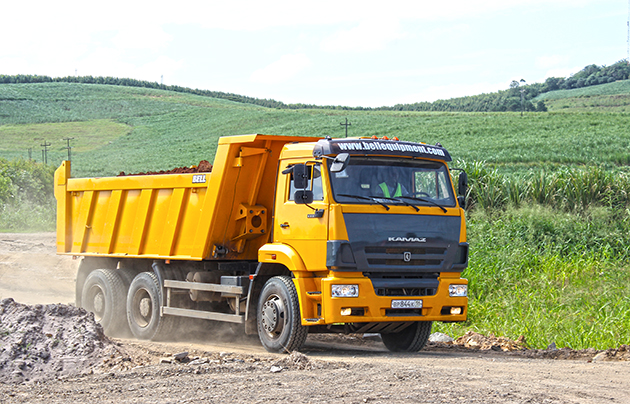 Matriarch
The Matriarch Skogger timber extraction and loading machine and the FASTfell felling and bunching machine will also make their NAMPO debut on the Bell stand after the company's agreement with Matriarch Equipment was expanded in July 2017 to include forestry equipment. The Matriarch range is well suited to southern African timber conditions and contractors with lower production targets and higher cost sensitivities and complements Bell Equipment's existing range, enabling the company to provide solutions that meet customers' needs as they move from manual to fully mechanised operations.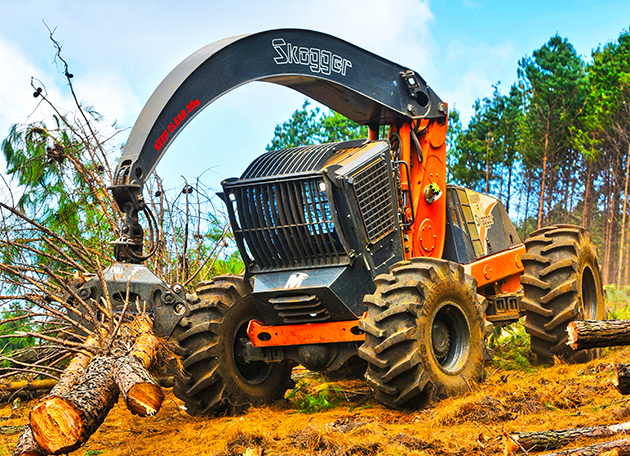 Bell
Completing the new machine line-up will be the new Bell F-series Tri-Wheeler. A pre-production Bell Logger was previewed at last year's show but with production of the F-series recently underway the company will display the complete range, which includes a Bell Logger, Bell Cane Loader and the Bell Forklift.
Bell Equipment's Product Marketing Manager, Tim Beningfield, says that the F-series has a modular approach. "We bring to the market a base F-series machine that is equivalent to the current machine in terms of specifications and pricing. Customers can then choose from a range of 'bolt on, bolt off' packages to tailor their machine to their specific needs. In this way they only pay for the technology and features that they require for their operating environment."
He says the company's designers have stayed true to the original design intent while reducing operational costs and fuel burn, and providing easier servicing, better visibility and improved agility.
The F-series features water-cooled Yanmar engines, which are more efficient from a cooling and fuel burn perspective, and impact on noise reduction. Two different engines are offered, one delivering 45kW at 2 200rpm, that matches the current Tri-Wheeler offering, and the second providing customers with a high-powered machine with a turbo-charged engine that delivers about 25% more power.
In terms of ergonomics, the F-series provides a larger cab with improved instrumentation, better ingress and regress points for operators, more head room and a suspension seat that can be moved further back to accommodate taller operators.
Bell Equipment's Chief Engineer: Agriculture and Alliance Products, Ian Kramer concludes: "Customer feedback has been very promising with our test units showing a 15 to 18% reduction in fuel burn. Feedback from operators is just as positive as they prefer the increased comfort levels of the F-series."