Backhoe Loader saves the day for Wait & See Holsteins
Published: 17 May 2023
The heavy summer rains in early 2023 caused many inland dams to overflow and South Africa's largest reservoir, the mighty Gariep Dam, was not spared either. A large portion of its water flows via the Fish River Tunnel into the Eastern Cape's Great Fish River causing that waterway to come down in spate and this has potential catastrophic downstream effects for the farmers along the river's banks.

One such farm is the internationally known, Wait and See Holsteins, where the Sieberhagen family has been farming with registered Holstein cattle since 1933. The present owner, John Sieberhagen, is the fourth generation of the family and farms this land near Mortimer, some 30km south of Cradock, with his wife Pam and their son Henry. The milk that their large herd of Holsteins produces is transported to both Port Elizabeth and East London in bulk tankers every day. Pedigreed cattle are sold throughout South Africa and exported to various African countries regularly.

"We realise our farm has an unusual name and the legend goes that when my great-grandfather and his son, our grandfather, bought this land after relocating here from Carnarvon in the Northern Cape, they were told they would not make it," John recalls. "To this, they apparently replied, 'Let's wait and see', and so the farm was named."

Wait and See's current milking herd numbers some 550 cows and twice a day these animals walk from the various fields where they graze to the milking parlour. Along the way they pass over a low-water bridge that fords the Great Fish River. As a result of more water being released from the Gariep Dam, the river brought down much debris by way of tree branches and some whole trees that clogged up the bridge and made it impossible for the cows to pass over it.

"You'd appreciate that apart from supplying milk being our livelihood, 550 or any number of cows that are in a production cycle cannot not be milked twice a day as that could potentially lead to all sorts of complications with the health of the animals," John explains. "We were almost in a real bind but fortunately help of our own doing was at hand."

The Sieberhagens had over time consecutively bought used backhoe loaders that they had used for seven to eight years respectively but had always found used machines to have hidden faults that were not evident when bought and which caused much heartache, expenses, and downtime later on. When their last used machine stopped being economical to repair at 10 000 hours early in 2022, they knew it was time to consider possibly buying a new backhoe loader as it was such a valuable piece of equipment to have on their farm.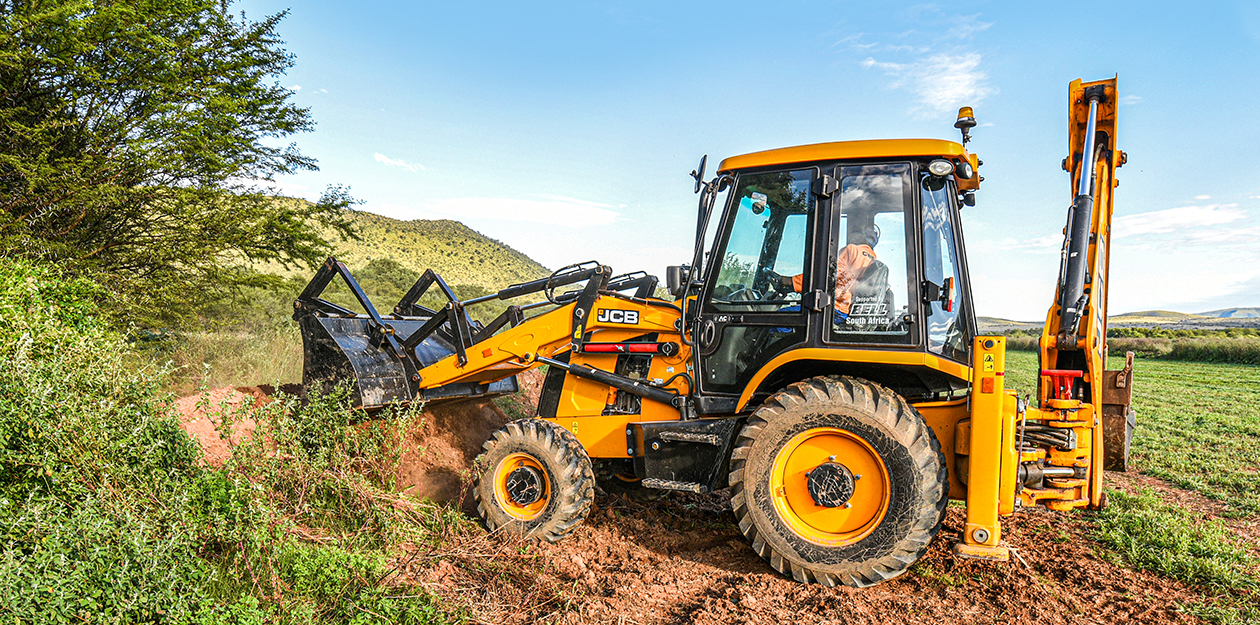 "A backhoe loader on this farm digs and loads every day and having a 4x4 machine is non-negotiable, but we also have other unusual uses for it," says Henry. "We distribute cattle feed with it, lift bulk bags of fertiliser when preparing for the planting season, and use the machine as a form of therapy for downer cows to lift them into a standing position from where they can gradually recuperate."
According to Henry, the backhoe loader is often used to manoeuvre their centre pivot irrigation rigs out of muddy patches as well.

When researching the wider backhoe loader market, the Sieberhagens came across Bell Equipment as the official distributor for the JCB brand of backhoe loaders and other machines. "This resonated with us as during the recent time when we didn't have our own backhoe loader and we hired in similar machines on a plant hire basis, which was expensive, we often received JCB 3DX Plus 4x4 machines and they worked very well," John says. "We subsequently requested a quotation for the same model from Bell Equipment South Africa and the company's Sales Representative in Port Elizabeth, Tom Swartz, responded very quickly."

Having arranged their own financing, Wait and See's brand new JCB 3DX Plus 4x4 Backhoe Loader was delivered in December 2022 and their Machine Operator, Simon Dwani, took to the new machine quickly. By all accounts, he really enjoys the JCB 3DX Plus's smooth controls, air-conditioned cab, and radio, which keeps him company when working on far-flung areas of the farm.

"When the Great Fish River came down in spate recently, we could confidently deploy our JCB 3DX Plus Backhoe Loader to clear the bridge of debris and, with its all-wheel drive traction, know that our operator Simon would be safe as well as the machine was not hampered at all by water flowing over the top of the bridge," John says. "In doing so, our milking herd could safely pass over the bridge twice a day and our milk production went ahead uninterrupted."

The Sieberhagens are pleased with the service they've enjoyed from Bell Equipment's branch in Port Elizabeth and have high praise for Mechanic, Daniel van der Walt, who keeps his hand on their JCB 3DX Plus Backhoe Loader.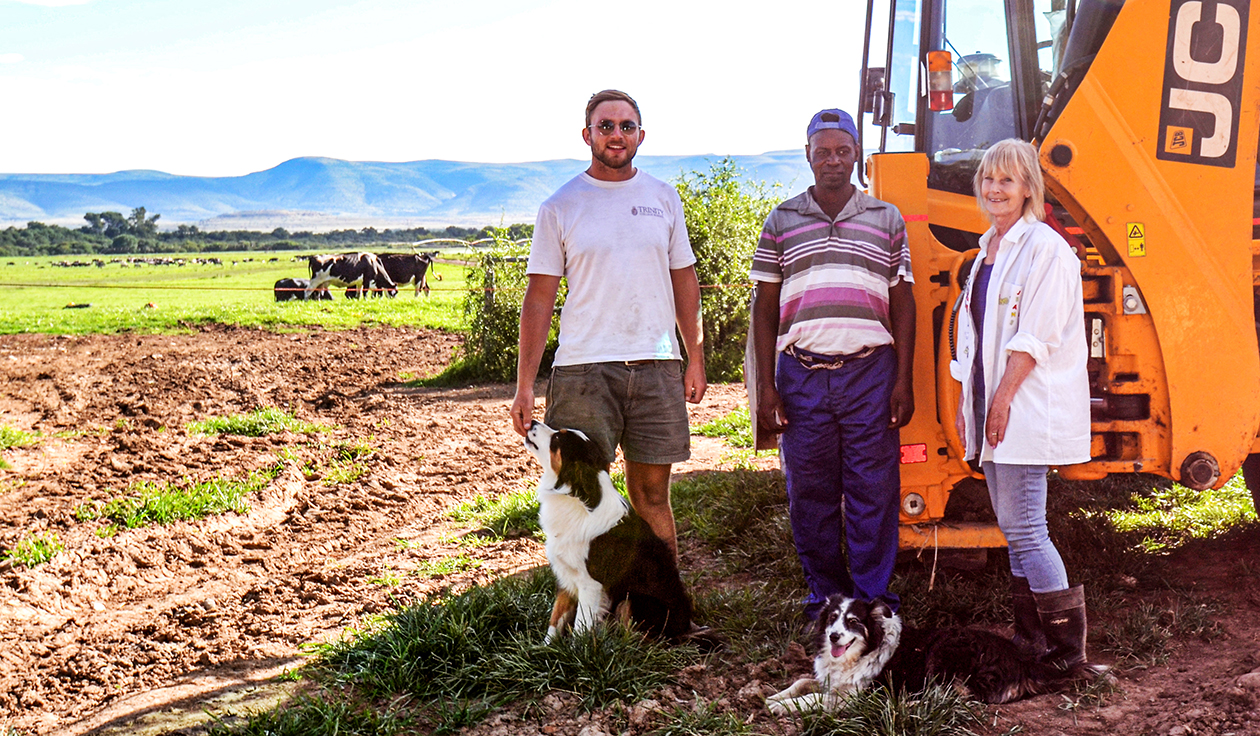 Henry Sieberhagen with Ollie the Border Collie (left), Simon Dwani (Backhoe Loader operator) and Pam Sieberhagen with Maia the Border Collie.