Developed to be a flexible and cost-effective timber handling solution for mechanised timber operations, the four-wheel drive (4WD) Skogger design concept has versatility at its core. While developed with primarily an extraction application in mind, the boom and grapple configuration lends itself perfectly to the accumulation of timber infield for extraction, sorting, stacking, and loading timber. There is also an option to install a felling kit, which utilises a felling head where tree size, terrain, or underfoot conditions necessitate a heavier 4WD carrier.

To promote exceptional performance the Skogger utilises a simple and efficient hydrostatic-mechanical drivetrain with good ground clearance and a low centre of gravity. Its comfortable and ergonomic rubber-mounted operator cab is air-conditioned and boasts a 180° swivelling operator seat and excellent all-around visibility.

As with all Bell machines, the Skogger is fitted with components supplied by the world's leading OEM suppliers to provide users with a high-quality product that delivers unrivalled value to timber operations where cost-per-tonne is the number one priority.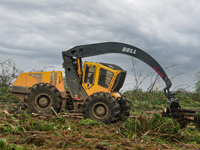 Key features:
Engine Power: 74 kW
Peak Torque: 425 Nm
Crane Lift Capacity: 2 300 kg
Contact Bell Equipment
At Bell Equipment, we are committed to delivering innovation, quality, and excellence in the construction and mining equipment industry. With a legacy spanning decades and a reputation for pioneering advancements, we continue to strive for excellence in everything we do.
Whether you're interested in our cutting-edge technology, our extensive range of equipment, or our commitment to sustainability, we're here to provide the information you need. Feel free to reach out to us by clicking the link below, and we will be more than happy to assist you.
If you have any inquiries, partnership opportunities, or would like to learn more about our products and services, please get in touch with us. Our dedicated team is here to assist you.
We look forward to the opportunity of serving you and being a part of your construction and mining endeavours.