Bell unveils new aftermarket logistics hub in Charleston, South Carolina
Published: 16 November 2023
Bell has marked a significant milestone in its growth with the opening of a new, state-of-the-art American Logistics Centre (ALC) in Charleston, South Carolina, which was celebrated with a ribbon-cutting ceremony on 26 September 2023.
The event was hosted by Andrew Pretorius, the general manager of the facility, and his team and was attended by key executives from Bell Equipment in South Africa and Germany. This included the Group Chief Executive, Leon Goosen; Director of Group Aftermarket and Logistics, Aldo Mayer; Director of Global Product Portfolio, Marketing and Dealer sales, Stephen Jones; and Director of Technical Services, Meltus Badenhorst. Neville Paynter, President of Bell Trucks America (BTA), the OEM's USA distributor, was also in attendance to mark the occasion.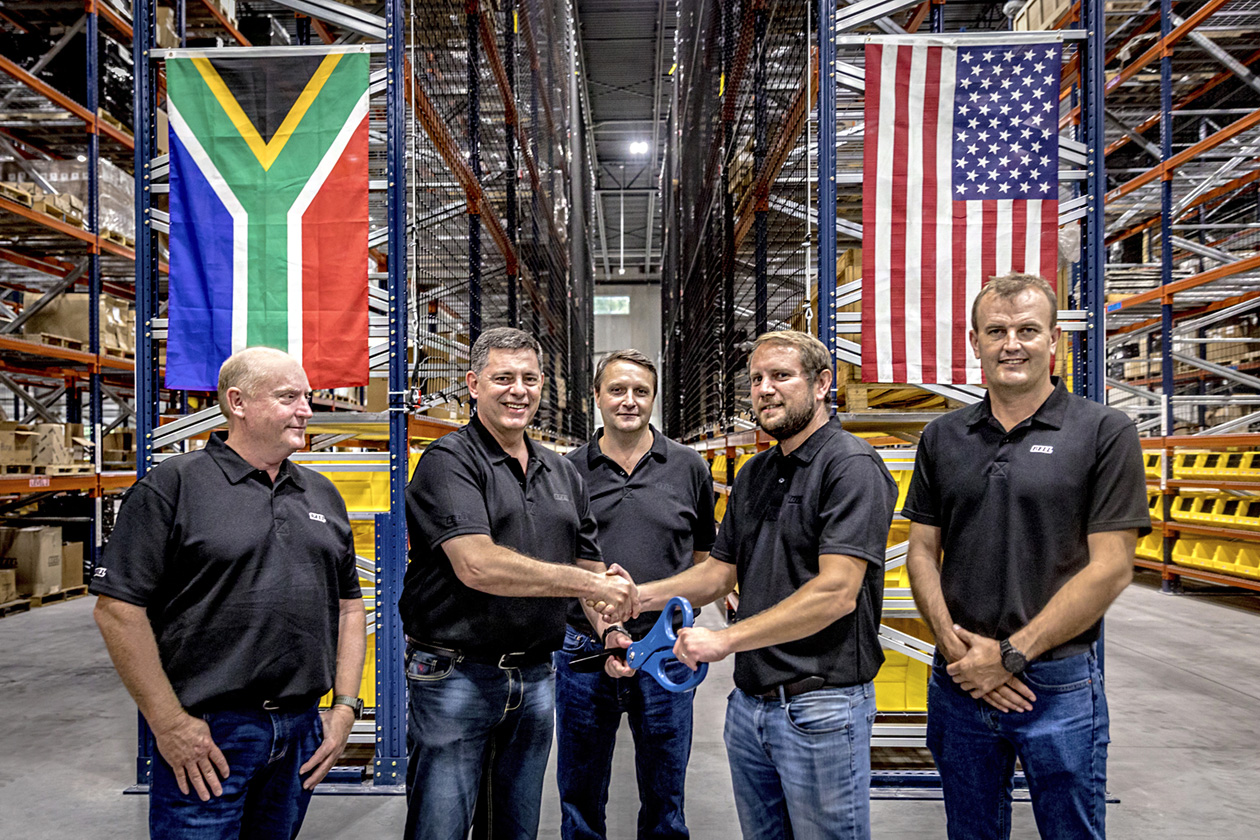 Bell Equipment Group Chief Executive, Leon Goosen (second from left), is handed the ceremonial scissors by the ALC General Manager, Andrew Pretorius, while Bell Directors, Stephen Jones, Aldo Mayer and Meltus Badenhorst, look on.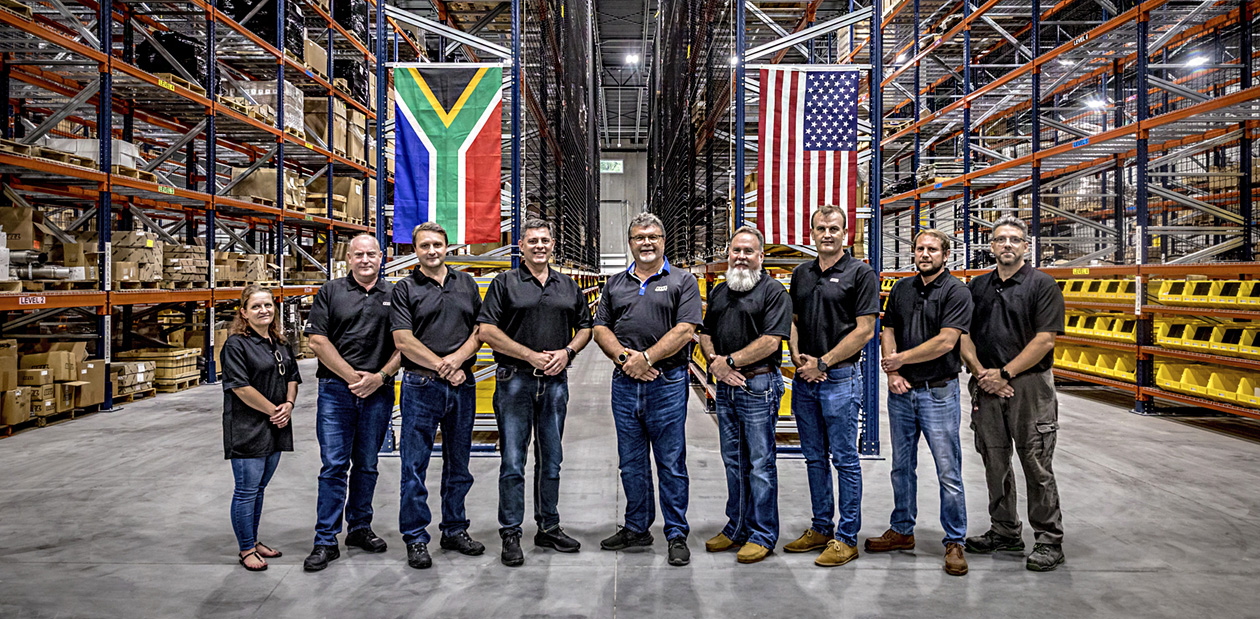 Celebrating the official opening of Bell Equipment's new American Logistics Centre are, from left: Heidi Sturgeon, Stephen Jones, Aldo Mayer, Leon Goosen, Neville Paynter (BTA), Ray Furrow, Meltus Badenhorst, Andrew Pretorius, David Watkins.
"The decision to relocate our warehouse from Cornelius, North Carolina, to Charleston is a strategic move that reflects Bell Equipment's commitment to growth and excellence. The move was driven by several factors, notably that we were outgrowing the old facility and required more space to accommodate our growing needs. Our new ALC is equipped with ample space and advanced logistics capabilities to support this expansion," explained Andrew.
At approximately 5 000 square metres (54 000 square feet), the new ALC is over double the size of the previous facility. The building is purpose-built for logistics with a high roof that allows better space utilisation and has resulted in double the number of storage locations than the old warehouse.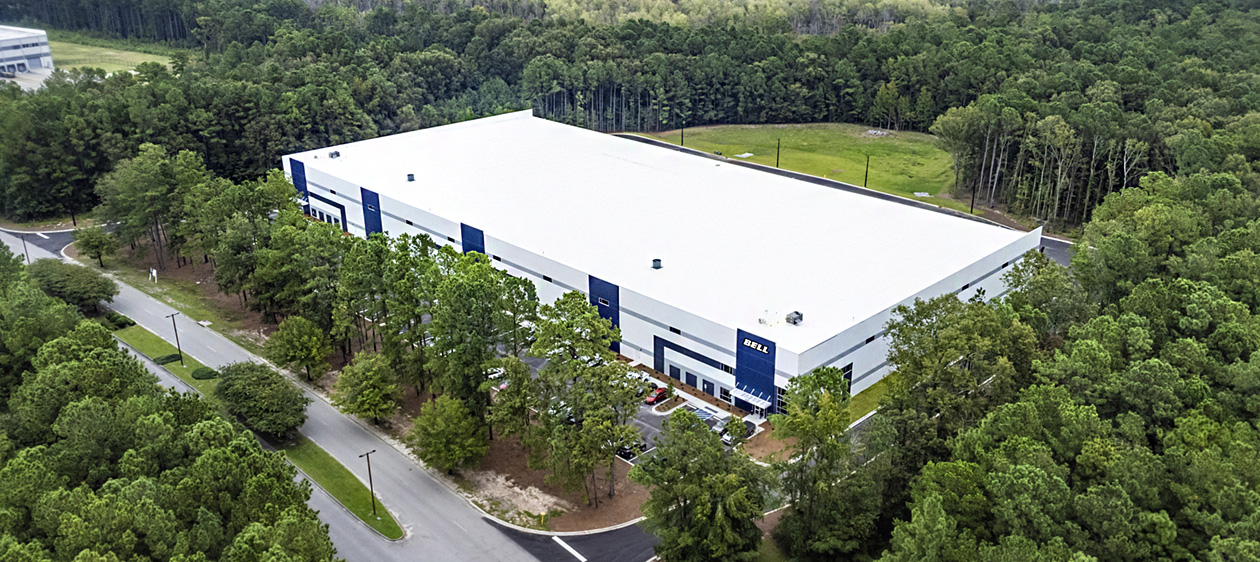 Bell Equipment's new American Logistics Centre in Charleston, South Carolina, is strategically positioned to serve as an aftermarket logistics hub for the Western Hemisphere.
Andrew continued: "Charleston offers proximity and logistics advantages as it is closer to our machine population and key suppliers, providing excellent logistics routes. Being close to a port will also significantly reduce inland freight costs as an added logistical advantage."
Importantly, Bell has identified the Western Hemisphere as a vital region and the ALC in Charleston will play a pivotal role in increasing the Bell presence and servicing customers' needs beyond the USA and is ideally placed to service all users in the Caribbean, North, South and Central America.
"With this in mind, and with the success of the Global Logistics Centre in Johannesburg and the European Logistics Centre in Germany, this new ALC is set to become the pivotal logistics hub for the Western Hemisphere. The facility will support aftermarket networks as well as strengthen our inbound supply chain," he explained.
Providing strong, reliable support is a core aspect of the business and the modern facility supports the company's medium and long-term vision.
Andrew was pleased to report that the transition to Charleston was "a resounding success with minimal disruptions" and thanked the project team and staff for their unwavering dedication and tireless efforts that ensured a smooth transition for Bell and its valued customers.
"The well-being of our employees is paramount. The decision to move was not taken lightly, and we want to thank our employees for their understanding. As we embark on this new chapter, we look forward to the increased capabilities and opportunities that the ALC in Charleston will bring. We thank everyone who played a part in making this move a reality; we anticipate a bright future ahead," added Aldo Mayer.