Bell ADT engineering brings together the very best in power and drivetrain technology and efficient, innovative design.
This is not an overnight phenomenon. It has evolved through several generations of strong reliable trucks. Trucks built on the vision of combining the best of the best in components and design, creates lasting value.
Our current offering comprises two ranges – the proven D-series (currently in its Mark VII version) and the brand-new E-series, the next evolution in Bell design.
Built for the long run and lowest cost per tonne:
Trucks are our business, we design them as dynamic vehicles that more than doubles its weight when loaded, experience in the harshest environments (mining in Africa, Russia and Austrailia) and reacting to customer feedback enables Bell to evolve our trucks with industry leading technology and reliability built in.
From the first day on the job Bell ADT's will deliver extra production economically with a long life ahead. The bottom line - absolutely the lowest cost per tonne in the business.

• Click here for MACHINE COMPARISON

• Click here for PDS/CAS Level 9 Ready Spec sheet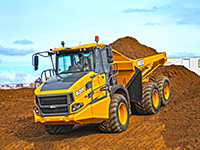 Key features:
Maximum Net Power: 170 kW (228 hp)

Gross Torque: 900 Nm (664 lbft)

Rated Payload: 18 000 kg (39 683 lbs)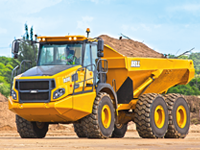 Key features:
Maximum Net Power: 210 kW (281 hp)
Gross Torque: 1 200 Nm (885 lbft)
Rated Payload: 24 000 kg (52 911 lbs)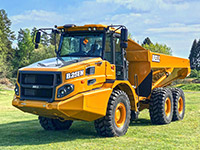 Key features:
Maximum Net Power: 210 kW (282 hp)
Gross Torque: 1 150 Nm (848 lbft)
Rated Payload: 24 000 kg (52 911 lbs)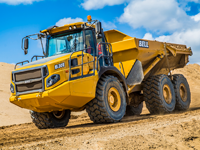 Key features:
Maximum Net Power: 260 kW (348 hp)

Gross Torque: 1 450 Nm (1 069 lbft)

Rated Payload: 28 000 kg (61 729 lbs)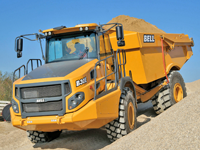 Key features:
Maximum Net Power: 260 kW (348 hp)

Gross Torque: 1 450 Nm (1 069 lbft)

Rated Payload: 28 000 kg (61 729 lbs)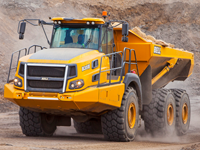 Key Features:
Maximum Net Power: 320 kW (429 hp)

Gross Torque: 2 600 NM (1 917 lbft)

Rated Payload: 33 500 kg (73 855 lb)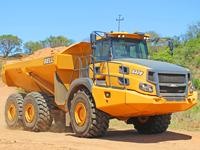 Key Features:
Maximum Net Power: 380 kW (510 hp)

Gross Torque: 2 600 Nm (1 917 lbft)

Rated Payload: 39 000 kg (85 980 lb)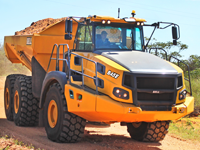 Key features:
Maximum Net Power: 390 kW (523 hp)

Gross Torque: 2 600 Nm (1 917 lbft)

Rated Payload: 41 000 kg (90 390 lb)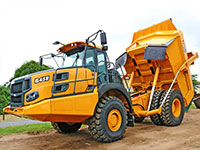 Key features:
• Maximum Net Power: 390 kW (523 hp)
• Gross Torque: 2 600 Nm (1 917 lbft)
• Rated Payload: 41 000 kg (90 390 lbs)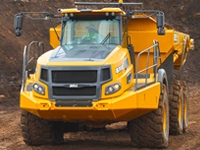 Key features:
Maximum Net Power: 430 kW (577 hp)

Gross Torque: 2 850 Nm (2 102 lbft)

Rated Payload: 45 400 kg (100 090 lb)
Key features:
Maximum Net Power: 430 kW (577 hp)
Gross Torque: 2 850 Nm (2 102 lbft)
Rated Payload: 55 000 kg (121 254 lbs)